Tuesday, March 26, 2019 -

12:00pm

to

1:30pm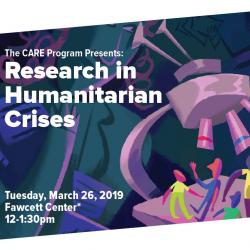 The CARE program is a year-long university-wide series of faculty-led conversations related to the ethical issues that arise from engaging in research. There is a need to explore not only the ethical importance of research at Ohio State University, but also the ethical problems that come up in the process of conducting research and the manner in which our university community members address these challenges across the disciplines. The panel discussions we host will create opportunities for researchers across the OSU campus to engage in a more comprehensive and critical reflection about the ethical ramifications of the way they conduct their research.
On Tues. 3/26 at 12-1:30p we'll be hosting a panel on Research in Humanitarian Crises.
3.26 CARE Flyer.pdf
Some important details:
Location: Fawcett Center, with a live simulcast in University Hall 347 for those that can't make it to the Fawcett.
Cost: Free, but please RSVP! The rest of the PREA conference this is part of, if you wish to attend is $25 (this includes coffee breaks and lunch).