Friday, November 15, 2019 -

3:30pm

to

5:00pm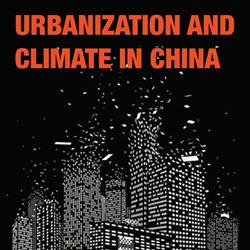 Our third speaker this year is Research Climate Scientist Liang Chen from the University of Illinois at Urbana-Champaign.
Urbanization and Climate in China.pdf
Urbanization and Climate in China
Land use plays an important role in human-induced climate change at the regional scale through altering land-atmosphere interactions. In this presentation, I will start with the potential impacts of future urban expansion on climate in China using the Weather Research and Forecasting (WRF) model, which downscales future climate projections from the Community Earth System Model (CESM) under the Representative Concentration Pathways (RCP) 4.5 scenario. We find that urbanization produces strong warming effects over the three major metropolitan areas in China, leading to up to 1.9°C warming at the local/urban scales, which is comparable to the magnitude of greenhouse gas forcing. Greater urban warming effects are projected during summer, which can be attributed to the high heat capacity of built-up areas. To mitigate the increasing risks of heat extremes, several strategies are proposed and assessed, such as irrigation and renewable energy. Both of the satellite observations and CESM simulations reveal cooling effects (about -1°C) of irrigation induced by enhanced evapotranspiration through higher soil moisture and better vegetation growth. Meanwhile, the CMIP5 projections suggest increased solar energy over eastern China, where most of the urban areas of the nation are located. These findings suggest that both land management and the development of renewable energy have the potential to alleviate the urban heat under a warming climate.