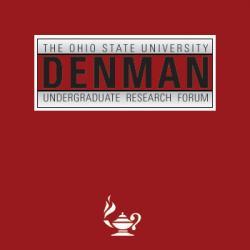 2018 Denman Undergraduate Research Forum
Dept. of Geography Affiliated Participants
Our department is contributing to seven undergraduates participating in the 2018 Denman Undergraduate Research Forum Tuesday March 3 at the Ohio Union.
Five posters and Two presentation. Read more about each poster/presentation below and find each undergraduate reasearchers Session and Poster/Presentation number, these are very usefull if you plan on visiting the Forum and want to locate a speciffic researcher.
Pictures from the Forum on our Facebook Page
Rachel Beery, Samuel Horen, John Manos, Madeline Marshall,
Matt Schneider, Nischay Soni, Andrea Stanic
Rachel Beery advised by Elisabeth Root
Women's adaptation to climate change in Melghat, India
Category Science for the Public Good
Session Number Session 2
Poster Number 17
Faculty Member Elisabeth Root
Abstract
Introduction/Background. The effects of climate change are felt everywhere today in our globalized society. Overall, in the study of demographic trends we understand that women who are more educated with better access to health care, and contraceptives on average have less children over their lifetime. However, little research has been done to understand how women are affected by climate change. This project investigates attitudes to climate change, how women in the area of Melghat, India have adapted to effects climate change, and how those decisions affect their choices in family planning. Methods Fifty in-depth interviews were conducted using stratified random sampling in 31 villages within the area of Melghat, India. The interview included questions on demographics, agriculture, family planning, and health translated in the local language. Results a concern for the effects of the weather changing was reported by 76% of the women saying they believe the weather will become worse over time with increasing temperature decrease in precipitation, and unpredictability of weather patterns. Monsoon season rain are of most concern in subsistence agriculture societies in India as this dictates crop season. A true disconnect exists between those who rely on the natural environment as 32% of the women said they did not know what climate change is or what effects it has. There are clear concerns about the changing climate with 48% of women stating that climate change has influenced their decisions in limiting family size. Education level and age is found to have the strongest correlation to women knowing of climate change and in turn limit or will limit the amount of children they will have. Conclusions Women in these areas of rural India and other subsistence agriculture communities will have a difficult time adapting to climate change. These findings are the start of understanding how this area can adapt to climate change as the next generation of women make the best decisions for their families. With education the younger generation of women are receiving, they know and understand these effects and making decisions to have less children so they can provide for all in their family.
Sam Horen co-advised by Ed Malecki
The influence of population density on the inputs outputs of innovation.
Category Promoting Wellness and Social Justice within Communities
Session Number Session 1
Poster Number 100
Faculty Member Roger Bailey
Abstract
From a macro perspective, cities across the world are constantly competing to become "sticky places" by attracting and retaining the best available people and businesses. To remain competitive in this era of rapid technological change and development, city officials and planners have placed a large emphasis on creating innovative environments. This paper hypothesizes that cities with higher density are more successful in such attempts, and evaluates whether or not a relationship exists between population density and innovation. To examine this relationship, USPTO patent data from the years 2000-2015 and R&D spending data from the year 2013 are compared against the population density of 26 unique Combined Statistical Areas (CSAs) or Metropolitan Statistical Areas (MSAs). Ultimately this study finds that both patent data and R&D data are weakly positively related to population density. When removing the San Jose-San Francisco-Oakland CSA, a highly innovative outlier, from the dataset the correlation becomes slightly stronger. Finally, this study indicates that population density by CSA may not be the most important population factor to consider when measuring innovation, as total population by CSA provided a stronger correlation to innovation.
John Morgan Manos advised by Bryan Mark and Jim DeGrand
Annual surface elevation change of the Lehman Rock Glacier in Great Basin National Park, Nevada, USA
Category Water and Earth
Session Number Session 1
Poster Number 134
Faculty Member Bryan Mark
Abstract
Mid latitude, mountain glaciers are a critical reserve of fresh water for local populations and are threatened by a rapidly changing climate. Specifically, the Lehman Rock Glacier in Great Basin National Park in western Nevada has little perennial, exposed ice left with the rock glacier being the predominant extant ice feature. In order to determine how dynamic the rock glacier is and better understand its geomorphology, we performed annual surveys of the surface beginning in 2015. Using balloon-borne photogrammetry, >600 images spanning a study area of ~ .1 km2 were taken at an elevation of roughly 500 feet above the surface. We used a surface from motion (SfM) technique where we could determine change in the surface of the glacier by identifying points in incident in aerial photos. Ground control points (GCPs), 5 used in the 2015 model and 15 used in the 2016 model, allowed us to reconstruct the surface from the aerial photographs. Accuracy points, 18 points in 2015 and 17 points in 2016, were used to assess errors in model reconstruction. Real-time kinematic (RTK) points were post-processed and differential corrected allowed for ~ .001 meter vertical resolution measurements. We developed our 3-dimensional models of the rock glacier using Agisoft Photoscan. A digital elevation model (DEM) of the glacier in both 2015 and 2016 was obtained using the models generated by Photoscan. Using ArcMap, the 2015 DEM model raster was subtracted from the 2016 DEM model raster. Results indicate that annual surveys using RTK and differential GPS produce high quality DEMs with an average elevation offset of ~ 0.30 m. Comparing DEMs showed elevation varies spatially ranging from +1.5 m to 1.0 m. The future of glacier morphology research will benefit greatly from drone technologies which will enhance photo quality and allow for higher resolution DEMs.
Madeline Marshall (Presentation) advised by Nancy Ettlinger
Juvenile justice system: A governmentality analysis of youth incarceration and resistance in Ohio.
Category Promoting Wellness and Social Justice within Communities
Session Number Session 3
Poster Number Room 2, 3:05PM
Faculty Member Nancy Ettlinger
Abstract
This project examines an aspect of the "hot button issue" of mass incarceration that is often overlooked in academic works: youth incarceration, specifically in Ohio. There is little scholarship on youth incarceration, and the focus of that work lacks attention to race, which crucial to understanding the unequal incarceration of youth of color and larger mentalities involved. Further, analyses tend to focus on large scale theories, to the exclusion of individual experience and action.. This project will examine the racialization of youth incarceration and identify productive methods by which the problems of dehumanization of incarcerated youth, unfair treatment/protocol in courts, and unequal resource allocation can be resolved.
Method: In addition to a critical review of scholarly literature, I interviewed members of two different organizations, Ohio's Juvenile Justice Coalition (JJC) and OSU's BuckeyeREACH, dedicated to resolving problems of youth incarceration. My aim was to discover the ways in which these organizations strategized to target specific, problematic practices of youth incarceration. I received approval from the IRB.
Results: I found that BuckeyeREACH focused on individuals already trapped in the cycle of youth incarceration and how to "break them out" through education and art, whereas JJC was able to interact with the judicial system in Ohio by using new data collection to counter the problematic nature of the data currently being collected by the state of Ohio. BuckeyeREACH used strategies to humanize the youth already incarcerated to themselves and others, focusing on education on social issues and using art as a way to re-access and share emotions that were often stifled. JJC, however, noticed that the judicial system's budget and practices were extremely reliant on data for their underlying reasoning, and sought to alter the amount and types of data being collected in order to tell a more complete story of youth incarceration in Ohio. These interviews paired with a critical review of scholarly literature, which allowed for further understanding of the use of art as resistance (against, for instance, hypermasculinity) and multi-scalar analysis allowed for realization of the effectiveness and reasons behind JJC and BuckeyeREACH's actions.
Conclusion: Although members of both groups shared concerns that their successes with individual youths were "small" victories, both nonetheless effectively identified and acted on specific aspects of the larger problem of racialized youth incarceration. Both projects sought, among other things, to rehumanize youth of color in the eyes of both themselves and others so as to create paths for victories against racialized youth incarceration. BuckeyeREACH evidenced that even individual success stories can be a part of breaking a larger stigma, and JJC showed just how powerful changing of data and language can be to altering larger understandings of specific populations.
Matthew Schneider (Presentation) co-advised by Becky Mansfield
Sovereignty: Remapping the politics of nature & nation in the Okavango-Zambezi basin.
Category Environment and Conservation Monitoring
Session Number Session 3
Poster Number Room 4, 4:45PM
Faculty Member Thomas McDow
Abstract
Next to humans, elephants (Loxodonta africana) are the most influential socioecological agents across southern Africa's grassy plains. Nowhere on the continent are African elephants as abundant as they are in the Okavango-Zambezi basin, and the scale and spatial over-concentration of this region's elephant population became the primary impetus for the 2011 establishment of the Kavango Zambezi Transfrontier Conservation Area (KAZA TFCA). Said to be the largest mixed-use conservation zone in the world, the KAZA TFCA joins together five nations in southern Africa' Angola, Botswana, Namibia, Zambia, and Zimbabwe' to collaboratively manage their shared riverine ecosystem and more evenly distribute wildlife (particularly elephants) across a fragmented biogeographic landscape. My research is based on three months of ethnographic fieldwork I conducted in and around the KAZA TFCA zone, entailing more than 30 semi-formal interviews and immersive participant-observation in southern African conservation spheres. With this paper, I consider how notions of sovereignty, whether control over territory or control over life and death, are reworked in KAZA's conditions of postcolonial, transnational, and multispecies entanglement. In particular, I question the position of elephants within KAZA's model of "trans frontier" environmental governance, mapping elephant movement across the TFCA's many boundaries, physical and conceptual. Ultimately, I argue that elephants themselves have forced novel configurations and conceptualizations of nature, nation, and sovereignty in the Okavango-Zambezi basin.
Nischa Soni advised by Bryan Mark and Jim DeGrand
Exploring innovations in soil moisture and UAV-borne sensing to serve Ohio agriculture
Category Environmental Responses of Plants and Crops
Session Number Session 3
Poster Number 150
Faculty Member Bryan Mark
Abstract
Agriculture is at the root of how mankind has developed and revolutionized our existence. According to the USDA, the agriculture, food, and other related industries represented 5.5 percent of the U.S gross domestic product in 2015. Farmers are consistently presented with both challenges and opportunities, from climate change to advanced technology. Right here in Ohio, farmers have a strong desire to continue to produce high quality food, make it more accessible those who sleep hungry, while maintaining sustainability and a profitable practice. Indeed, agriculture remains a critical sector of the economy of Ohio. The mission of the State Climate Office of Ohio (SCOO) is to serve as data stewards to connect Ohioans with weather and climate information necessary to improve lives, and agriculture is an important part of our mission. Recently through a Connect and Collaborate grant, SCOO applied resources toward the development of the Fertilizer Application and Resource Monitor that allows farmers to freely access future and past precipitation forecasts. This resource provides farmers with high-resolution guidance to better manage (timing) fertilizer and manure applications. This ultimately saves time and money for the farmers by reducing nutrient runoff, which also creates a healthier water ecosystem throughout the state. Within this framework, additional aid can be achieved with more accurate soil moisture monitoring. SCOO utilized funds to purchase and install soil moisture monitoring equipment at two depths (5 and 10 cm) at four locations in Ohio - part of the OARDC Ag Weather network. An undergraduate student helped install sensors and collect additional data using handheld soil moisture probes. Here, we present the first data recorded from this equipment. To begin to explore the spatial heterogeneity of the soil moisture around the station, another student has begun to explore the areas around the sensors using multispectral imagery mounted on an Unmanned Aerial Vehicles (UAV). Creating a platform for farmers to remotely sense their surrounding region helps them to maximize profits by understanding their land layout, gives them the confidence to invest by studying and researching certain statistical data (precipitation, temperature, nutrients), in turn helps maintain a healthy food-production ecosystem.
Andrea Stanic advised by Nancy Ettlinger
The future of programming jobs: Changing realities and stagnant perspectives
Category Education and Schools
Session Number Session 3
Poster Number 156
Faculty Member Nancy Ettlinger
Abstract
Across the United States, there has been a massive expansion of coding boot camps. This development is tied to the emphasis in K-12 schools and universities on teaching students coding skills to prepare students for jobs. Academicians debate the sustainability of programming and related jobs. Some argue that the demand for programmers will meet the growing number of coders, while others argue that coding jobs in the United States will be threatened by outsourcing, automation, and the precarious, less-than-full-time nature of these jobs. I will evaluate this debate and also examine programmers-in-training's in/familiarity with potential problems of the jobs for which they are preparing, how they view their future job prospects, and the reasoning behind their beliefs in their job prospects. I will compile data from reports on programming jobs and their employment projections. Additionally, I will interview computer science students at The Ohio State University, Youngstown State University, and Illinois Institute of Technology. I plan to submit a proposal to the IRB by end of the first week in February. Jobs in information technology are predicted to decline considerably in the United States. Automation in the form of artificial intelligence is already cutting programming jobs abroad in India, where US firms have been outsourcing and offshoring programming jobs since 1990. However, most Americans, including programmers, do not see their jobs at risk of automation. Although jobs in information technology are predicted to decline, student programmers and computer science students more generally are confident about their future employment, and moreover are unaware of ongoing debates. Their confidence stems from conventional notions that only blue-collar jobs are at risk due to automation, outsourcing, and flexibilization of jobs. The disconnect between changing realities and perceptions of the future of programming-related jobs can be explained by neoliberal norms that guide students to pursue skills deemed valuable in society while universities lack education about industrial change in the context of processes occurring in the global economy. Students are focused on increasing their human capital without attention to the changing context of the jobs for which they train.