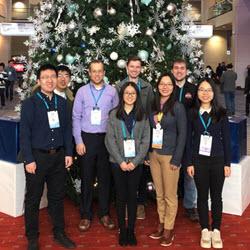 ASP / Geography colleagues at the AGU fall meeting. From left to right: Chen Zhao, Shanshui Yuan, Steven Quiring, Yuechun Wang, Jordan Pino, Ning Zhang, Zachary Leasor and Zhiying Li.
Faculty News:
Kenneth Madsen (OSU Newark) has been in the news recently given his expertise on the U.S. / Mexico border. He was quoted in La Tercera (newspaper from Santiago, Chile): Trump no cede y exige fondos para completar dos tercios restantes del muro on December 27, and wrote an op-ed for the Newark Advocate, Is the border really more unlawful than Newark? from the December 30 edition.
Student News:
Deondre Smiles (PhD candidate) and Jason Tham (a PhD candidate in Rhetoric at the University of Minnesota-Twin Cities) have a forthcoming book chapter on the interaction between rhetoric and public space found in the game Pokémon Go. The upcoming book, The Pokémon Go Phenomenon: Essays on Public Play in Contested Spaces, was edited by Jamie Henthorn, Andrew Kulak, Kristopher Purzycki and Stephanie Vie.
Upcoming Events:
Anthony Robinson, Assistant Professor, Department of Geography at Penn State University will be visiting us to discuss PSU's online Geospatial Education Programs on Friday, January 18th.
Darla Munroe
Professor and Interim Chair