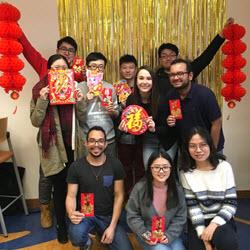 Happy Year of the Pig! Lunar New Year party. Back row (left to right): Zhihao Wang, Yuchen Li, Luyu Liu; Middle row: Xiaoyu Liang, Jialin Li, Polina Berezina, Rohit Mukherjee; Botton row: Wilton Filho, Yuechun Wang, Tianqi Zhang. More images from this event can be found on our Facebook Page
Faculty News:
Madhumita Dutta has a forthcoming article in the journal, Geographical Review in the special issue, "Fieldwork in Geography." The paper is titled Turning Productive Failures Into Creative Possibilities: Women Workers Shaping Fieldwork Methods In Tamil Nadu, India.
Becky Mansfield and coauthors have a recent paper in the Annals, Situating Data in a Trumpian Era: The Environmental Data and Governance Initiative.

This week Becky Mansfield also chaired an external review of Indiana University's Department of Geography, along with Julie Winkler (Michigan State University), Jamie Winders (Syracuse University), and Eric Sandweiss (Indiana University).
Upcoming Evnts:
The Byrd Polar & Climate Research Center (BPCRC) would like to invite you to attend the inaugural Byrd Center Symposium on Climate Change Research at Ohio State, on Friday, March 22. The symposium will take place at BPCRC in Scott Hall on West Campus. If you plan to attend, please register by Friday, March 1; the registration page is now live, at: https://byrd.osu.edu/symposium/register. All are welcome!

The Geography Speaker Series' next speaker is Mara Goldman from the University of Colorado. Her talk will be "Knowing Nature Otherwise? Changing Views from the East African Plains."
Friday, February 22nd, 3:30-5 pm.
Derby Hall 1080
Darla Munroe
Professor and Interim Chair