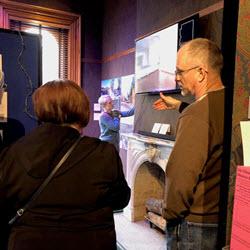 OSU Newark's Kenneth Madsen (front, right) at the Dayton International Peace Museum's exhibition of "Up Close with US-Mexico Border Barriers," on Saturday, February 16th.
Faculty News:
Kenneth Madsen's (OSU Newark) Border Barriers exhibit has moved to Dayton for February and March. There was an opening talk and reception this past weekend at the Dayton International Peace Museum, and a talk Monday at Sinclair Community College.
Harvey Miller published a paper in the International Journal of Geographical Information Science: "Towards an integrated science of movement: converging research on animal movement ecology and human mobility science." Co-authors include OSU geography alumna Jennifer Miller and current OSU professor of Civil, Environmental and Geodetic Engineering Gil Bohrer.
Joel Wainwright is speaking at the Environmentangled conference in the Ohio Union today, organized by the Germanic Graduate Student Association.
Student News:
Jinhyung Lee (PhD candidate) and Harvey Miller have a forthcoming paper in Transportation Research Part D: Transport and Environment: "Analyzing collective accessibility using average space-time prisms."
Deondre Smiles (PhD candidate) gave a lecture on February 6 to the International Affairs student organization about indigenous adaptation and mitigation to climate change. This lecture was based on a lecture he gave in GEOG 2800 (Our Global Environment) last fall.
Upcoming Events:
Colloquium TODAY: Mara Goldamn, University of Colorado Derby Hall 1080, 3:30 pm.
TEDxOSU Talk by Forrest Schoessow, "Source to Sea: My journey down the Mississippi."
Saturday, February 23rd, Mershon Auditorium.
Chengfei He is giving a public presentation of his recent publication "Role of ocean in the transient response of atmospheric and oceanic heat transports to anthropogenic warming."
Wednesday, February 27th, Scott Hall 177, 3:45 pm.
Spring Tinker Talk, hosted by the Center for Latin American Studies, featuring Geography MA student Jeff Gunderson, "Assessing the Dendroclimatological Potential of Polylepis trees in the Peruvian Andes."
Thursday, February 28th, 11:30 am, 160 Enarson. Registration required to attend.
Darla Munroe
Professor and Interim Chair