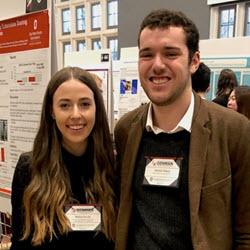 Geography BA students Maeve Scully (left) and Patrick Cleary at the 2019 Denman Undergraduate Research Forum.
Faculty News:
Huyen Le (PhD candidate, Virginia Tech) has accepted the position of Assistant Professor in Urban Sustainability Science and GIS. We look forward to welcoming her in Autumn 2019.

Desheng Liu has been elected to the University Senate for the term 2019-2022.
Student News:
Jake Ferrell (BA student, Econ/History) mentored by Joel Wainwright, has won the Karen Holbrook Award to support their research in Belize.

Kenza Kamal (BA student, Poli Sci), mentored by Madhumita Dutta, submitted a video for her project "Enclosed for Business: Primitive Accumulation in Modern-Day Pakistan." This video was one of four selected as an Outstanding Video Submission at the 2019 Denman Undergraduate Research Forum.

A group of faculty, graduate students, and undergraduate students from our department participated in the Dimensions of Political Ecology conference held at the University of Kentucky, in Lexington. Those attending included Becky Mansfield (faculty), Ariel Rawson (PhD Candidate Geog), Arianna Hall-Reinhard (PhD student, Geog), Nora Sylvander (PhD Candidate Geog), and Tal Shuktin (BA student, Geog). Tal won the Undergraduate Student Paper award.
Staff News:
Suzanne Mikos (Department Manager) received the College of Arts and Sciences Staff Excellence Award which is intended to honor outstanding and substantial service to the college.
Alumni News:
Jill Coleman (PhD 2006, Geography-Climatology) was promoted to Professor in 2017 in the Department of Geography at Ball State University (Muncie, IN), where she has been since 2006. In Fall 2018, she was appointed Associate Dean for the College of Sciences and Humanities and reports that she thoroughly enjoys this new opportunity.

Alistair Fraser (PhD 2006, Geography) is the new European editor of the journal Human Geography
Upcoming Evets:
The OSU Meteorology Club is hosting the 23rd Annual Severe Weather Symposium on Thursday, March 28th. Registration has begun. Please visit the Meteorology Club web site to RSVP.

Joel Wainwright is participating in a panel organized by the OSU Undergraduate Anthropology Club on "Marxism in the Social Sciences." Monday March 4.
4 pm, Smith Lab 4180.

The next Sharpe Innovation Commons Workshop speaker will be Lawrence Joseph, the Marketing Manager for KFC. His talk is titled, "The Role of Big Data in Retail Location Decision Making." Tuesday March 5.
2:30 pm, Derby 0005.

The Center for Urban and Regional Analysis (CURA) is again offering "Coffee with CURA." Thursday March 7.
10:00 am to 12:00 pm.
Derby 0126
Darla Munroe
Professor and Interim Chair