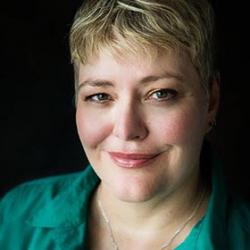 On October 2, the State Climate Office of Ohio (SCOO) was pleased to host a visit from Professor Stuart "Stu" Foster, who got his PhD in Geography here at OSU in 1988 with Emilio Casetti and is now the Director of the Kentucky Climate Center at Western Kentucky University. With a gathering of administrators and staff from across campus and the Ohio Emergency Management Agency, Stu provided valuable insights into how he was able to make a 'value proposition' for top-quality climate observations, and then acquired federal and local funding to establish one of the Nation's premier mesonets (network of climate stations). Stu also met with students and faculty in Derby Hall to reflect on his life trajectory from Economic Geography to State Climatologist. (Pictured here with Jim Degrand [left], Stu Foster, and Bryan Mark).
Students from Geog 5501 (Urban spaces in the global economy) went to Franklinton on October 15 for an educational field trip to understand the multiple perspectives on urban revitalization and gentrification. During their visit, they interacted with community based American Palestinian artist Mona Gazala, walked around the west Franklinton neighborhood and visited the Steam Factory/400 W Rich. They were accompanied by instructor Madhu Dutta, Darla Munroe and Nancy Ettlinger.
On November 7-8, the Center for Aviation Studies is hosting their first annual conference on Diversity in Aviation. They have some incredible key note speakers and breakout sessions that are valuable to anyone who wants to know more about issues of diversity and inclusion. Anyone in STEM fields might find this interesting and relevant.