October 18, 2019
News Brief from our Chair Darla Munroe
Image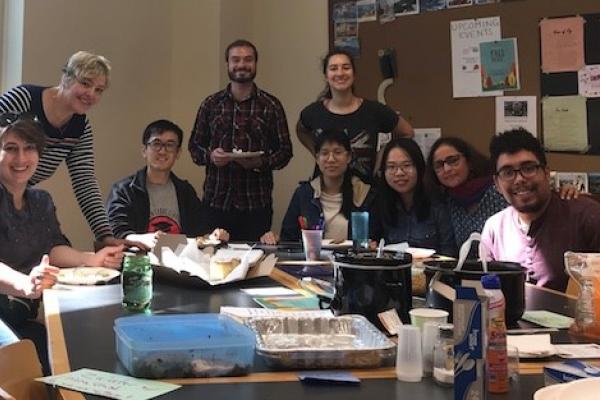 Description
Ph.D. student Rebecca Chapman and faculty member Madhumita Dutta hosted a potluck to launch this year's Global Dining Series. Many dishes from all over the world were sampled.
Student News:  
Arianna Hall-Reinhard (PhD student in Geog) won second place in the Ph.D. competition for her paper, "Mental health in the midst of climate catastrophe," at the East Lakes Division of the AAG meeting in Saginaw, MI.
Alumni News:  
Xiang (Peter) Chen (PhD Geog, 2014) joined University of Connecticut (UConn) as an assistant professor in the Department of Geography. Peter employs GIS instruments and transportation models to unveil socioeconomic inequalities and health repercussions as a result of the lack of affordable, healthy food access in communities.

Michael Niedzielski (MA Geog 2005, PhD Geog 2009) has achieved "habilitation" (tenure) and the rank of Associate Professor in the Institute of Geography and Spatial Organization of the Polish Academy of Sciences. He and his wife, Gosia, are also proud parents of a new son, Tomasz.

Nora Sylvander (PhD Geog, 2019) just began a new position as a Fellow in Environment in the Department of Geography and Environment at the London School of Economics and Political Science.
Upcoming Events:  
October 17-18. The Byrd Polar and Climate Research Center are hosting a symposium, "Women in Antarctica," featuring our own, Ellen Mosley-Thompson.

October 18, the inaugural talk in the 2019-20 Geography Colloquium Series, Urban Asia, Youjeong Oh from the University of Texas. "Pop city: Korean popular culture and the selling of place."
3:30 pm, 1080 Derby Hall
Darla Munroe
Professor and Chair
---