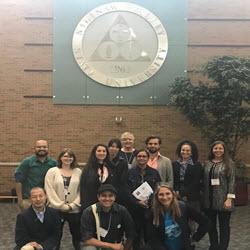 Graduate students, staff and faculty attend the East Lakes Division of AAG annual meeting in Saginaw, Michigan.
Faculty News:
Jialin Lin and Taotao Qian (independent researcher) have published 5 peer-reviewed papers in 2019, and one more accepted, appearing in Geophysical Research Letters, Journal of Atmospheric and Solar-Terrestrial Physics, and Nature Scientific Reports.

Kendra McSweeney received the Carl O. Sauer Award. The Sauer Award is given in recognition for a corpus of important published work or other significant contribution towards Latin American geography.
Student News:
Young Jaegal (Ph.D. student, Geog) has a new publication with his advisor. Jaegal, Y. and Miller, H.J. (2019). "Measuring the structural similarity of network time prisms using temporal signatures with graph indices", Transactions in GIS.

Deondre Smiles has just had his book review of Seven Myths of Native American History by Paul Jentz published in American Indian Quarterly; he is happy to send a free copy of the issue to anyone who is interested.
Deondre also is currently in Atlanta, where he has been invited to be a part of a group of scholars representing Ohio State at the 2019 Institute on Teaching and Learning. The Institute is the largest gathering of underrepresented minority PhD scholars in the country. The goal of the Institute is to provide a safe environment for doctoral scholars to share insights and survival tips for success in graduate work, build community among themselves, enrich their research and teaching strategies, and give scholars the skills that will serve them in the profession of their choice.

Three graduate students (Ning Zhang, Zhiying Li, and Jerry Zou) from the Department of Geography have recently published a paper in Energy. This paper stems from a research project that they completed in Applied Climatology (GEOG 8902) in Spring 2018.
Alumni News:
Rachel Mauk (Ph.D. 2016, ASP) is a Research Analytics Consultant at the Ohio Colleges of Medicine Government Resource Center. She was featured recently in a Staff Spotlight.
Upcoming Events:
October 25th, Max Woodworth is our colloquium speaker, Picturing Ruin in Urban China, at 3:30 pm in Derby 1080.

We have an exciting series of events lined up this year for our annual GeoWeek, Tuesday, 11/12 - Friday, 11/15. One highlight is a Weathercasting workshop with Pat Carlini on Thursday, 11/14 (link to RSVP).
Darla Munroe
Professor and Chair