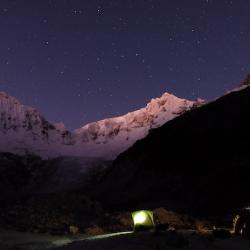 Our 2019 Geospectrum has been published! This cover photo was taken by PhD Geog student, Emilio Mateo, in the Llaca watershed in Peru.
Faculty News:
Madhumita Dutta took her class Geog 5501 (Urban Spaces in the global economy) on the first of several field trips to Franklinton, a neighborhood undergoing urban revitalization. The field trips complement multiple presentations by invited guest speakers and classroom lectures on urban change processes across different places. The students are expected to produce fieldwork-based research reports as the final paper for the course.

Darla Munroe and Kendra McSweeney published a Reflection paper in the journal One Earth in response to a recent IPCC report, "Climate and Land."
Student News:
Zhiying Li (PhD student, Geog) received the 2019 Toracinta Graduate Fellowship in Atmospheric Science
Upcoming Events:
The Department of Geography is seeking volunteers and participants for our annual GeoWeek, Tuesday, 11/12 - Friday, 11/15. Please announce in your classes, and stop by the Main Office if you'd like to volunteer.

Our next speaker will be Liang Chen from the University of Illinois, Urbanization and Climate in China, on Friday, November 15 at 3:30 pm in Derby 1080.
Darla Munroe
Professor and Chair