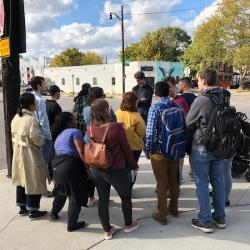 Professor Madhumita Dutta took her class, Geog 5501: Urban Spaces in the Global Economy, to the Franklinton neighborhood of Columbus for the first of several visits that will culminate in semester-long projects on the city's revitalization efforts, the contrasting perspectives of community leaders, and the displacement of long-term residents and reduction in affordable housing that is occurring.
Faculty News:
Joel Wainwright is presently in London. Joel went to England to receive the Sussex Prize in International Theory (for Climate Leviathan) at Sussex University, where he gave two talks on the book. Later Joel gave a pair of invited lectures at KCL Geography. He is presently participating in the 2019 Historical Materialism Conference at SOAS.
Student News:
Kaylee Harter (BA student, Geography) is the Editor-in-Chief of the OSU student newspaper, the Lantern, which just received the Student Press Law Centers's 2018 Reveille Seven College Press Freedom Award.

Sam Kay (Ph.D. Candidate, Geography) moderated a panel with Dr. Yimin Zhao and artist Song Yi at the Goethe Institute Peking (Beijing, China): "Uprooting for Progress: A discussion about Beijing's greenbelt"
Upcoming Events:
Please check out our series of events planned for GeoWeek 2019.

For GIS Day within GeoWeek, OSU Libraries is hosting a Humanitarian Map-a-Thon. Click here for more details.

Geography's speaker series for GeoWeek is Liang Chen, whose talk is titled Urbanization and Climate in China, Friday, November 15th, 3:30 pm, 1080 Derby.
Darla Munroe
Professor and Chair