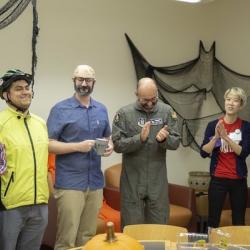 Department of Geography's annual Halloween "Dress like your student / advisor" 2019 entrants. From left to right: Bryan Mark and Gabo Zeballos-Castellon, John Temmen and Alvaro Montenegro (winners), Sohyun Park and Darla Munroe. (See full picture below).
Faculty News:
Madhumita Dutta is giving a colloquium today at the Department of Geography and Planning, University of Toledo. Her talk is titled, "Rise and Fall of a Community in a Sweatshop: Everyday Relations of Labour in a Special Economic Zone in Tamil Nadu, India."

Ellen Mosley-Thompson and Lonnie Thompson (Earth Sciences) were featured speakers at the 2019 American Academy of Arts and Sciences Induction Ceremony on October 12.
Upcoming Events:
Our speaker TODAY is Liang Chen, "Urbanization and Climate in China," Derby 1080, 3:30 - 5 pm.
Darla Munroe
Professor and Chair