December 6, 2019
News Brief from our Chair Darla Munroe
Image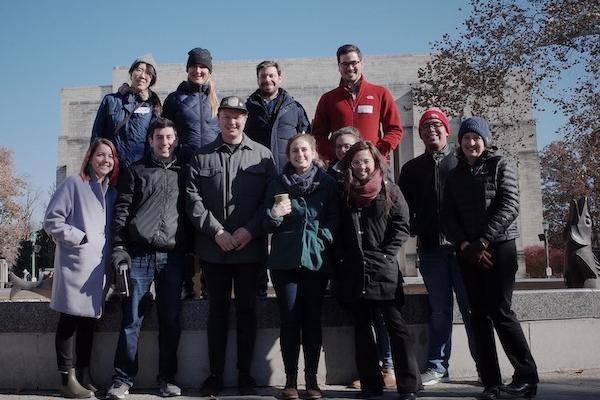 Description
Ohio State Geography faculty, students and alumni attend the 2019 Kentucky-Ohio-Indiana workshop in political ecology at Indiana University.
Faculty News: 
Madhumita Dutta collaborated on a report titled, "Sourcing Dynamics, Workers' Rights, and Inequality in Garment Global Supply Chains in India" with Mark Anner from the School of Labor and Employment Relations, Pennsylvania State University.

Madhumita Dutta was also a featured speaker at the Association for India's Development (AID) event regarding the 1984 Bhopal Gas Disaster on November 26 at the Columbus Metropolitan Library.

Jialin Lin and Taotao Qian (independent researcher) have published a new paper in Nature Scientific Reports.
In November, faculty members Kendra McSweeney and Becky Mansfield and graduate students Deondre Smiles, Ariel Rawson, Sohyun Park, and Arianna Hall-Reinhard attended the KOI (University of Kentucky, Ohio State University and Indiana University) Political Ecology Workshop, hosted by the Department of Geography at Indiana University. Jed DeBruin (Geog BA, 2017), now a PhD student at University of Kentucky was also there.  A paper by Deondre was among the works-in-progress discussed at the workshop. We expect to host the next KOI workshop, in autumn 2020.

Elisabeth Root was asked to serve a 3-year term on the Geographical Sciences Committee of the National Academies of Sciences, Engineering, and Medicine starting Jan 2020.
Student News:  
Shaleen Ghosh, a Second-Year Transformational Experience Program (STEP) student, majoring in Biology wrote a reflection on her participation in Geog 3753.02 Geography of the European Union Education Abroad this past summer.

Sohyun Park passed her PhD candidacy exam. Her project is titled, "Nationalized Seed and Globalized Land: Effects of Seed Regulation Regime on Korean Strawberry Industry." Her committee consists of Becky Mansfield, Max Woodworth, Ningchuan Xiao and Darla Munroe (advisor).
Upcoming Events:  
The Geography Department Autumn Awards & Graduation Reception will be on Friday, December 13, from 1:30-3:30 pm at the Faculty Club.
Darla Munroe
Professor and Chair
---