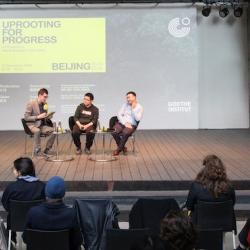 PhD Candidate Sam Kay moderating a panel in November with Dr. Yimin Zhao and artist Song Yi at the Goethe Institute: "Uprooting for Progress: A discussion about Beijing's greenbelt".
OSU Part - AAG 2020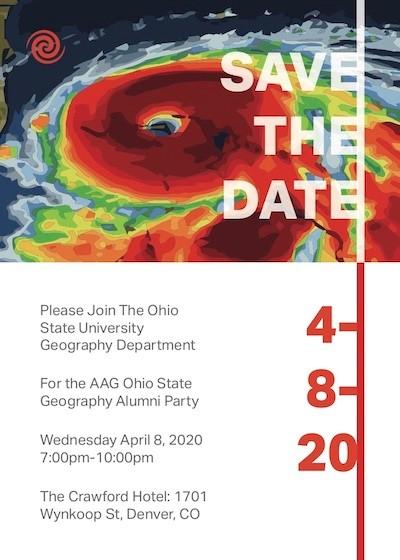 Geography Blog:
We have two recent entries: Glaciers, Exploration, & Geography: Geomorphology Redefined by Bryan Mark (faculty); and Research Reflections by Rebecca Chapman (PhD student).
Faculty News:
Jialin Lin is one of the finalists for the Arts and Sciences Outstanding Teaching Award (OTA). This year more than 100 faculty were nominated, and 5 finalists were selected. First awarded in 1947, the Arts and Sciences Outstanding Teaching Award is particularly notable because the nomination and selection processes are entirely administered by students through the Arts and Sciences Student Council. Each year the faculty winner and finalists are recognized for this honor at the Arts and Sciences Spring Recognition Reception.
Student News:
Congratulations are in order for the OSU Meteorology Club for executing another chapter of the long standing Annual Severe Weather Symposium. This was the 24th year of the Symposium and they are already looking forward to next year's 25th anniversary edition which will most likely bring back many alumni and possibly some of our favorite presenters.

Emilio Mateo (PhD student, Geog) passed his candidacy exam Tuesday. Emilio's committee includes Elisabeth Root and Alvaro Montenegro, and Mike Durand of Earth Sciences, with Bryan Mark as advisor. Emilio's project is titled, "Situating debris-covered glaciers in the tropical cryosphere through aerial mapping and meltwater chemistry and examining historical discharge trends in the Cordillera Blanca, Peru." He will be heading to Peru over spring break to do some more field work.
Alumni News:
Phillip Williams-Cooke (BA, Geog 2002) is a motivational speaker based in New York City, with a long list of credentials for his work in the community centering around drug addiction and mental health. He reports that though his current career is a "far cry" from his studies as an OSU student, the URGS major was formative in understanding how chronic mental health issues and drug addiction intersect with homelessness, lack of affordable housing, and other issues human and urban geographers tackle.
Upcoming Events:
Our next colloquium speaker will be Hongtao Yi from the Glenn College, What drives the performance of Collaboration Networks. February 21st.

The selected Edward J. "Ned" Taaffe speaker of the 2019-2020 academic year, is Vinay Gidwani, Department of Geography, Environment and Society, University of Minnesota. His talk is titled, The Infrastructure of Value. February 28th.

Both talks are Fridays, Derby 1080, 3:30 pm.
Darla Munroe
Professor and Chair