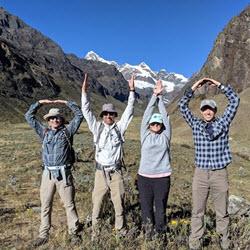 Geography PhD student Emilio Mateo traveled to the Cord Blanca in Peru for field work this summer. O-H-I-O featuring OSU alumni Rob Hellstrom (PhD ASP, 2000), Laurie Hellstrom (MS SES) in the middle, along with Emilio (R) and faculty member Bryan Mark (L).
Faculty News:
Desheng Liu has been awarded a grant from the National Science Foundation, "Interactions of environmental and land surface change, animals, infrastructure, and peoples of the Arctic." This collaborative team includes investigators from Kansas State University, the University of Arkansas, Georgia Institute of Technology and the University of Michigan.

Elisabeth Root is Principal Investigator on a new grant, "GeoHAI: A novel geographic tool for Hospital Acquired Infection visualization and assessment," from the National Institutes of Health, Agency for Healthcare Research and Quality. This project will be administered jointly with Courtney Herbert of OSU Medical Center.

The most recent power outage forecast for Hurricane Dorian developed by Seth Guikema (University of Michigan) and Steven Quiring is available here.
Alumni News:
Jordan Pino (PhD Geography, 2019) has accepted a position as a data scientist at Athenium Analytics in Washington D.C. The company provides insurance QA auditing, weather peril analysis & risk assessment software to the world's top insurance & finance companies. He will be developing predictive models in order to determine risk from weather conditions and other various environmental variables.

Jared Schenkel (MA Geography, 2019) has taken a position as an Associate GIS Specialist at the Mid-Ohio Regional Planning Commission