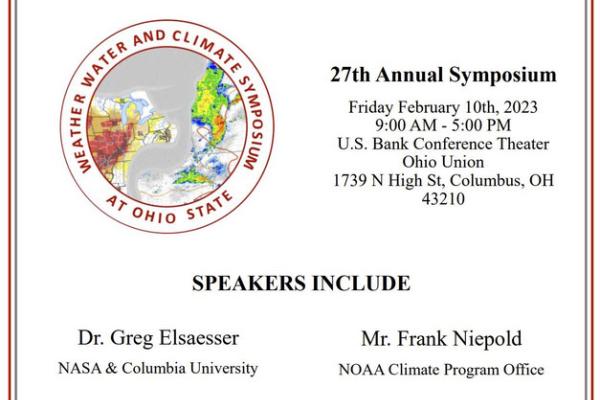 February 10, 2023
9:00AM - 5:00PM
U.S. Bank Conference Theater Ohio Union
Add to Calendar
2023-02-10 09:00:00
2023-02-10 17:00:00
27'th Annual Symposium, Weather, Water, and Climate Symposium
We are very excited to announce the details for our club's 27th annual symposium! First, while this may come as a surprise, we are making a significant overhaul to the theme of the event, opening up opportunities for speakers in all areas of atmospheric sciences to present. As a result, we will be changing our name to the Weather, Water, and Climate Symposium! Second, the symposium will take place at the Ohio Union on the Ohio State campus Friday February 10th, 2023 from 9 am-5 pm. Registration information will be sent out at a later time so stay tuned! Lastly, we are also excited to announce the 8 main speakers presenting at next February's symposium! Dr. Greg Elsaesser from NASA & Columbia University Mr. Frank Niepold from NOAA Climate Program Office Dr. Scott Rudlosky from NOAA NESDIS STAR Dr. Steven Quiring from StormImpact & The Ohio State University Dr. Jana Houser from The Ohio State University Mr. James Spann from WBMA Birmingham, Alabama Ms. Emily Lill from Colorado State University Dr. Zack Leasor from the Climate Analytics Lab at The Ohio State University Thank you so much for your support to allow us to get to the 27th edition of this event. Have a great weekend everyone and Go Bucks!   PLEASE REGISTER HERE  
U.S. Bank Conference Theater Ohio Union
OSU ASC Drupal 8
ascwebservices@osu.edu
America/New_York
public
Date Range
Add to Calendar
2023-02-10 09:00:00
2023-02-10 17:00:00
27'th Annual Symposium, Weather, Water, and Climate Symposium
We are very excited to announce the details for our club's 27th annual symposium! First, while this may come as a surprise, we are making a significant overhaul to the theme of the event, opening up opportunities for speakers in all areas of atmospheric sciences to present. As a result, we will be changing our name to the Weather, Water, and Climate Symposium! Second, the symposium will take place at the Ohio Union on the Ohio State campus Friday February 10th, 2023 from 9 am-5 pm. Registration information will be sent out at a later time so stay tuned! Lastly, we are also excited to announce the 8 main speakers presenting at next February's symposium! Dr. Greg Elsaesser from NASA & Columbia University Mr. Frank Niepold from NOAA Climate Program Office Dr. Scott Rudlosky from NOAA NESDIS STAR Dr. Steven Quiring from StormImpact & The Ohio State University Dr. Jana Houser from The Ohio State University Mr. James Spann from WBMA Birmingham, Alabama Ms. Emily Lill from Colorado State University Dr. Zack Leasor from the Climate Analytics Lab at The Ohio State University Thank you so much for your support to allow us to get to the 27th edition of this event. Have a great weekend everyone and Go Bucks!   PLEASE REGISTER HERE  
U.S. Bank Conference Theater Ohio Union
Department of Geography
geog_webmaster@osu.edu
America/New_York
public
We are very excited to announce the details for our club's 27th annual symposium! First, while this may come as a surprise, we are making a significant overhaul to the theme of the event, opening up opportunities for speakers in all areas of atmospheric sciences to present. As a result, we will be changing our name to the Weather, Water, and Climate Symposium!
Second, the symposium will take place at the Ohio Union on the Ohio State campus Friday February 10th, 2023 from 9 am-5 pm. Registration information will be sent out at a later time so stay tuned!
Lastly, we are also excited to announce the 8 main speakers presenting at next February's symposium!
Dr. Greg Elsaesser from NASA & Columbia University
Mr. Frank Niepold from NOAA Climate Program Office
Dr. Scott Rudlosky from NOAA NESDIS STAR
Dr. Steven Quiring from StormImpact & The Ohio State University
Dr. Jana Houser from The Ohio State University
Mr. James Spann from WBMA Birmingham, Alabama
Ms. Emily Lill from Colorado State University
Dr. Zack Leasor from the Climate Analytics Lab at The Ohio State University
Thank you so much for your support to allow us to get to the 27th edition of this event. Have a great weekend everyone and Go Bucks!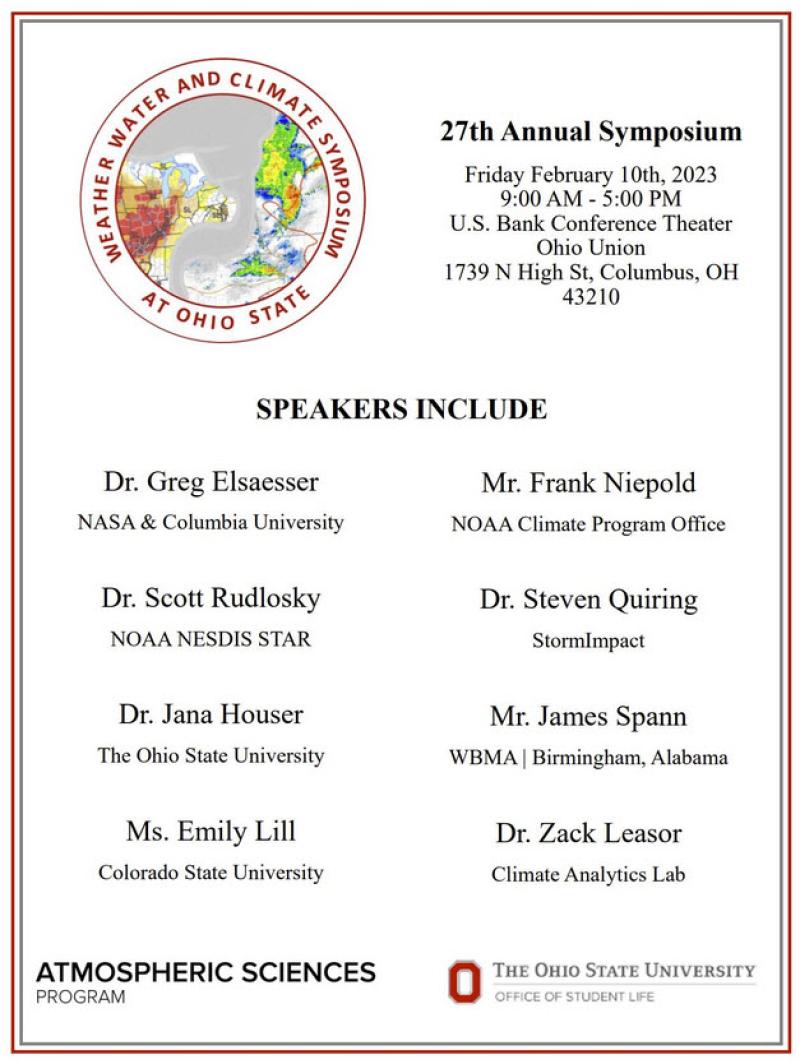 ---