Monday, November 16, 2020
to
Friday, November 20, 2020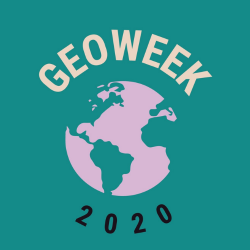 GeoWeek 2020 Schedule of Events
Monday, November 16
12:00pm-1:00pm
Air Transportation Major Info Session
Interested in a major change to Social Sciences Air Transportation? Register to attend this major information session to find out more about the major and professional pilot certification.
4:00pm
Geoguessr Competition
Compete individually in a Geoguessr tournament. Highest scorer will win Geography swag!
Tuesday, November 17
10:00am-11:00am
Weather Q&A with Ben Gelber and Mike Bettes
An hour question and answer session with Ben Gelber (NBC 6) and Mike Bettes (Weather Channel) to talk all things weather, meteorology, and atmospheric science.
12:00pm-1:00pm
GIS & Spatial Analysis Major Info Session
Interested in a major change to GIS or Spatial Analysis? Register to attend this major information session to find out more. Students will have opportunity to meet with advisor after, officially change major and plan classes for spring semester.
Wednesday, November 18
9:00am-4:00pm
GIS Day
GIS Day is an annual event for students, staff, faculty, and the broader community to learn more about Geographic Information Systems (GIS) and to celebrate the power of geospatial analysis and visualization in answering research questions and solving real-world problems.
This year's GIS Day program will be a virtual collaboration between The Ohio State University, Case Western Reserve University, and the University of Cincinnati.
For complete details and registration info, see HERE.
Thursday, November 19
12:00pm-1:00pm
Lightning Talk Competition
Graduate students will be presentnig their research in a lightning talk format. Viewers will get to vote on their favorite!
Friday November 20
4:00pm
Geography Quiz Show
How well do you know the Earth's lands, features, inhabitants and phenomena? Join us for a rapid fire, knockout Geography Quiz Show!