Wednesday, April 10, 2019 - 2:30pm
Sharpe Innovation Commons, Derby Hall 0005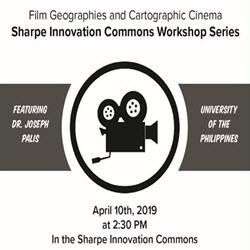 The Sharpe Innovation Commons Workshop Series was established to focus on geographers outside of academia, looking at how their careers utilize their education, and how they got to where they are today.
Our final Sharpe speaker of the year will be Dr. Joseph Palis, Assistant Professor in the Department of Geography at the University of the Philippines-Diliman.
Please join us for this opportunity to learn from an expert in the field Film Geographies and Cartographic Cinema.