Friday, February 21, 2020 -

3:30pm

to

5:00pm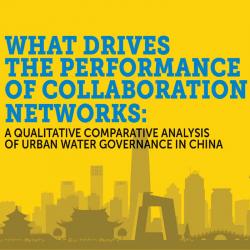 Hongtao Yi
Associate Professor
John Glenn College of Public Affairs, The Ohio State University.
Hongtao Yi What drives the performance of collaboration networks.pdf
Title: What Drives the Performance of Collaboration Networks: A Qualitative Comparative Analysis of Urban Water Governance in China
Abstract: Collaboration network is a popular governance tool in urban governance to cope with functional fragmentation problems. Empirical works are needed empirically examine the outcomes of such governance networks, especially in the context of urban environmental governance. With fuzzy-set qualitative comparative analysis (fsQCA), this article seeks to evaluate the outcomes of collaboration networks, by investigating the influence of network structures on urban water governance performance in China. Based on a dataset on twenty urban water governance networks implementing Water Ecological Civilization Pilot Project in China, the findings suggest that policy networks with high overall bridging and bonding social capital and low network density are very likely to perform better. This study has policy implications for the design of urban collaboration networks in facilitating effective environmental governance.