Tuesday, November 12, 2019
to
Friday, November 15, 2019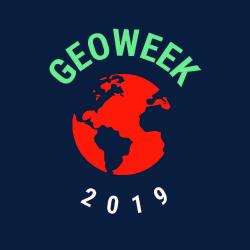 GeoWeek 2019 Schedule of Events
TUESDAY, NOV 12
1:00pm-3:00pm
Graduate Research Forum (Derby Hall 1039 & Derby Hall Atrium)
Join Geography and Atmospheric Science graduate students as they present their research with oral presentations and a poster session.
3:00pm-4:00pm
GIS/Spatial Analysis Major Info Session (Derby Hall 1186)
5:30pm-6:30pm
GeoGuessr Competition (Derby Hall 1039)
Compete in a GeoGuessr tournament with a team of 2-4. The winning team will take home Geography swag!
WEDNESDAY, NOV 13
9:00am-3:00pm
GIS DAY (3rd Floor Research Commons, 18th Ave. Library)
Workshops, lectures, and exhibits. Join us for the GIS fair with students and professionals from industry, government, and academia.
5:00pm-8:30pm
Preliminary Geography Bowl Rounds (Derby Hall)
Teams of 3-4 compete in a round robin tournament of Geography trivia to claim a scholarship prize for the team! Each team must have at least one Geography major. A brief overview will start at 5:00 on Wednesday with all teams signed in ahead of time.
THURSDAY, NOV 14
9:00am-10:00am
Thinking about Grad School? (Derby Hall 1186)
Learn necessary steps to prepare and important things to consider for graduate school at Ohio State!
11:00am-2:00pm
Weathercasting Workshop with Pat Carlini (Sharpe Innovation Commons Green Room)
3:00pm-4:00pm
Air Transportation Major Info Session (Derby Hall 1186)
FRIDAY, NOV 15
12:00pm-1:00pm
CURA speaker, Noreen McDonald (Thompson Library, Multipurpose Room 165)
Healthcare Transportation Services: How Technology and Shared Mobility are Changing Options and Behavior
3:30pm-5:00pm
Geography Department Colliquium speaker, Liang Chen (Derby Hall 1080)
Urbanization and Climate in China
5:30pm-9:00pm
Geography Bowl Finals (Derby Hall 1080)
The grand finale of the Geography Bowl! Come support your favorite team!