December 13, 2022
100 Years of OSU Geography - 100 Maps - All made in house.
Image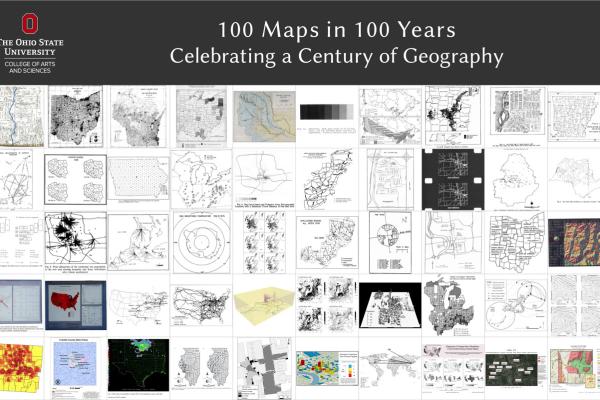 Description
As part of our 100 Years celebration of being the Dept. of Geography at The Ohio State University geography Professor Ningchuan Xiao put together this illustration of some of our map productivity, 100 maps—all made in house—to celebrate our 100th birthday!
A full size digital version of the poster can be found here:
Dr. Xiao continues,
These are set for anyone with the link to view. If you have trouble accessing the files, please let me know. The text at the bottom may look small, but their size is 11 points and should look fine in full size.
Thanks to all who contributed to this little project. I want to especially thank Daniel Dotson for pointing me to the rich resources. Those included in the poster do span from 1922 (the one on the top-left corner) to 2022 (lower-right corner). But I must say the maps were chosen quite arbitrarily and should be treated as such. When the next anniversary comes by, I am sure it will be done differently.
Ningchuan Xiao
(not full resolution version below)
---