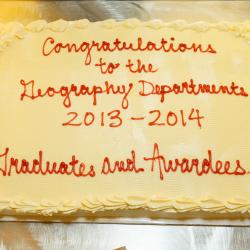 The 2014 OSU Department of Geography Graduation and Award Reception/Dinner was held on Friday May 2'nd in the Student Union Cartoon room. After enjoying some delicious appetizers and merriment with our graduating students and families, our Chairman Professor Dan Sui presided over the festivities with the assistance of key staff and faculty committee members helping him with the delivery of this years academic and service kudos and merit awards. Here is a summary of the evenings events with accompanying pictures, Enjoy.
Undergraduate Student Advisor Brook Raake Presented,
Special Recognition of Undergraduate Leadership and Service Awards:
The department would like to give special recognition to two of our undergraduate students for their dedicated leadership and service over the past academic year.
Michael Groenke: Mike served as the undergraduate representative on the Undergraduate Studies Committee for the past two years. He provided valuable feedback to the committee on topics ranging from proposed curricular changes to course assessment to undergraduate recruitment strategies. Mike strove to help out the committee in any way he could. Thank you, Mike, for your two years of dedicated service to this department.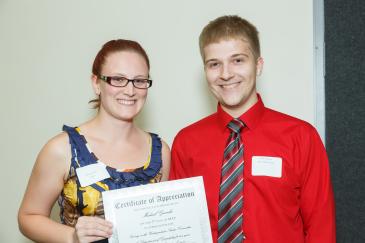 Tyler Spears: (absent from the banquet) Tyler emailed me at the beginning of spring semester and asked if there were any opportunities for him to give back to the department. He felt he received so much from his Ohio State experience that he wanted to pay it forward. For this reason, I asked Tyler to accompany me to Experience Arts & Sciences Day, a major recruitment event held at OSU in February. Tyler did such a great job engaging with the prospective students that I again asked him to travel with me to Sinclair Community College in Dayton for Geography Career Day in April. Tyler's enthusiasm for Ohio State, Geography, and GIS were contagious, and I have no doubt many of the students who choose to come to Ohio State in the future will be here because of his influence. Thank you, Tyler, for your contribution to the Department of Geography's recruitment efforts.
Undergraduate Studies Committee Chair, Dr. Becky Mansfield Presented,
Awards and Scholarships for Undergraduate Geography/Atmospheric Sciences/GIScience Majors:
It is my pleasure to be here today to give out awards to our wonderful undergraduates majoring in Geography, Atmospheric Sciences, and Geographic Information Science. I am chair of the Undergraduate Studies Committee, which has the pleasurable yet difficult job of picking which students will receive these awards. We have 5 different awards, which we are giving to 15 individual undergraduate students today. Each student will get a certificate or a plaque, and—even better!-- each award includes a monetary component as well.
First, we have two different scholarships that we give to returning students.
Sharpe Scholarship for Outstanding Undergraduates. This scholarship was established with funds from the Gary L. Sharpe Scholarship Fund in Geography, which was established in 2010. This scholarship provides funds for undergraduate students in any of our majors. Students who receive this award are chosen based on their excellence in the classroom.
Today we are excited to give the Sharpe Scholarship to 6 students. Of which 3 can be seen here with Becky.
Tyler Sebree, Sarah Paetz, Lainie Rini,
(John Banghoff), (Rebecca Miller), (Daniel Berghoff)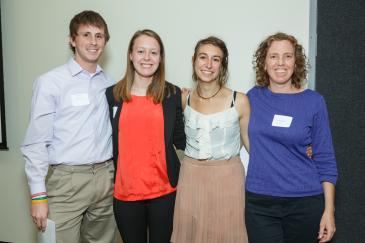 Fenburr Scholarship for Women and Underrepresented Groups. This scholarship was started in 2012. It was established with funds from the Herbert and Dorothy Joseph Fenburr Scholarship Endowment Fund for Geography, which was established in 2002. The funds are to be used to support undergraduate students, with a special focus on both academic excellence and professional development.
Danya Contractor,
(Rachel Dougherty), (Bethany Willett)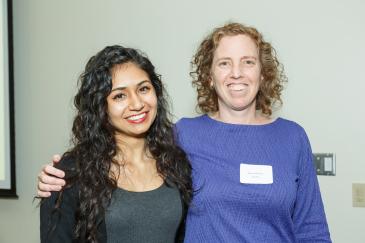 Second, we have a series of 3 awards for students completing their major. The goal of these awards is to honor these students' achievement in the classroom, research, service and/or leadership. The students chosen for these awards were all nominated by individual faculty members who wrote glowingly about them. These students are outstanding emerging scholars -- all noted by faculty to be exceptional.
Taaffe Award for Outstanding Undergraduates in Atmospheric Science, and Climate and Physical Geography. This award was established with funds from the Edward J. "Ned" Taaffe Memorial Fund in Geography, established in 2003. We have two people receiving this award this year.
Michael Groenke: In addition to excelling in the classroom, Mike has been a very active presence in the department. He has been involved in the Meteorology Club, serving for the past year as Vice President. And I got to know him as the undergraduate representative on the department's Undergraduate Studies Committee.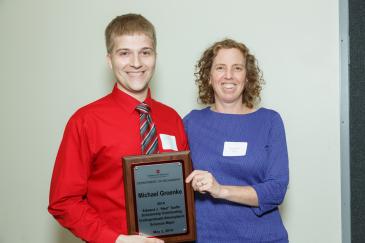 Michalea King: Michalea joined Dr. Bryan Mark's research team at Byrd Polar Research Center. As part of the team, she participated in one of the research expeditions to Great Basin National Park. In his nomination, Dr. Mark noted "Despite never having camped, and needing to borrow equipment, Michalea dove in and was a fantastic addition to our team." Since then, she has done independent research using climate data from that project.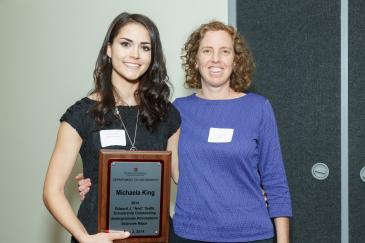 Huntington Award for Outstanding Undergraduates in Environment and Society, and in Urban Regional and Global Studies. This award was established with funds from the Charles Clifford Huntington Memorial Fund, established in 1957 by a gift from Helen Hughes Huntington in the memory of her husband. And we have three people receiving this award this year.
Tim Adams: Tim has completed an honors thesis on a neighborhood demolition and redevelopment project near OSU Hospital East, investigating how poor and elderly longtime residents are displaced as part of building a planned mixed-income neighborhood. Tim has also dedicated himself to activism during his years at OSU, organizing conferences on activism and making presentations on sexual assault, racism, and corporate trends in higher education.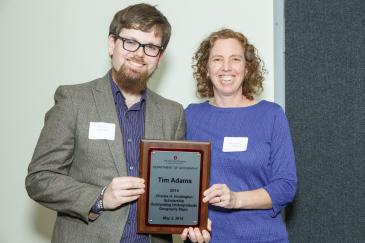 Devin Oliver: Devin has completed an honors thesis on the role of sexuality and race in urban branding and marketing campaigns in Rio de Janeiro, Brazil. This research is timely, given the current attention to Rio, and the topic is surprisingly unexplored in academic scholarship. Devin is also a student leader, having served as co-president of SHADES, OSU's queer of color student group, and as the student representative on the Board of the Scarlet & Gray LGBTQ Alumni Society.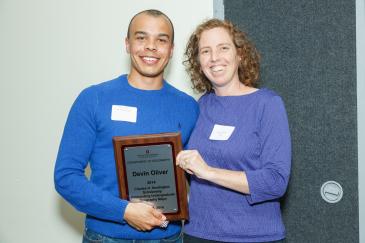 Nikki Woodward: Nikki is not able to join us today, so please congratulate her when you see her. She completing her degree as a returning student, following careers in the food industry and cave-guiding industry. Dr. McSweeney, in her nomination, wrote that Nikki "represents what a geography undergrad should be: curious, interested in learning new perspectives, and always willing to challenge her own… As a non-traditional student, she exemplifies the best capacities and possibilities of our undergrads."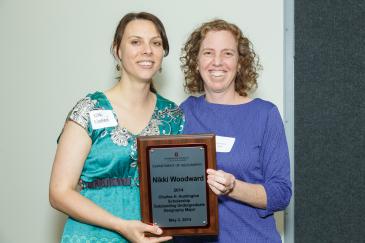 Robinson Award for Outstanding Undergraduates in GIScience and Spatial Analysis. This award was established with funds from the Arthur H. Robinson Fund, established in 1985, based on an initial gift from Arthur Robinson in 1947. We have one person receiving this award this year.
Yasamin Ramezani: In addition to her excellent classroom performance, Yasamin has actively applied her GIS skills to process spatial data and manage GIS projects. She worked as a GIS intern for Physical Planning and Real Estate at OSU. She also worked on several student projects at OSU and has done research and tutoring in Iran.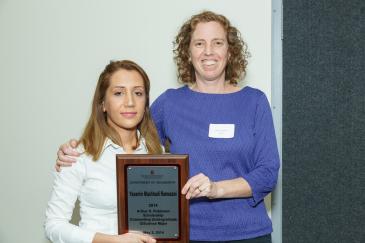 Congratulations to all these students - those who are returning for one or more additional years with us, and the graduating seniors who are embarking on the next stage of their lives. We wish you well!
Graduate Studies Committee Chair, Dr. Darla Munroe Presented,
Awards and Fellowships for Graduate Students (MA/MS and PhD):
Fenburr Travel Scholarship for Outstanding Graduate Students. This $600 scholarship is intended to offset costs of travel associated with professional development. The competition is run twice a year, with three awards made in autumn and spring and the competition is open to Master's and Doctoral students. The recipients for this past year are: Zoe Pearson (Spring 2014), Jeff LaFrenierre (Autumn 2013), Justine Law Autumn 2013), Rachel Mauk (Autumn 2013), Sam Kay (Spring 2014), (Xining Yang Spring 2014).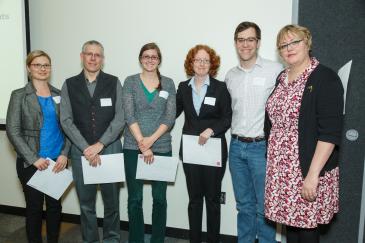 Rayner Scholarship for Field Work. This scholarship provides $1,000 to support fieldwork endeavors by graduate students. The recipients for this past year are: Zoe Pearson (Autumn 2013), (Daniel D'Amico Spring 2014) and (Natasha Sadoff Spring 2014).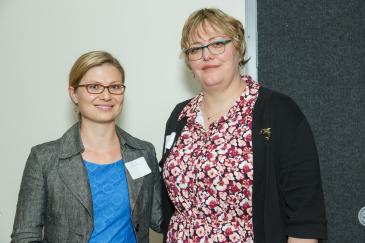 Lakshmanan Chatterjee Fellowship for Outstanding Ph.D. Students ('Lakshmanan Chatterjee Fellowship') This endowment was established June 5, 2009 with gifts from Dr. Tiruvarur R. Lakshmanan and Dr. Lata Chatterjee to be used to recognize a distinguished graduate student in the Department of Geography who is in the PhD program. This award is intended to benefit a PhD student, either from the Global South (Asia, Africa, or Latin America), or carrying out research on the Global South. The award should support a student professionally focused on issues of benefit to humanity, and with demonstrated professional promise. The fellowship provides funds for research and this year it goes to: Oliver Wigmore and (Chris Hartmann).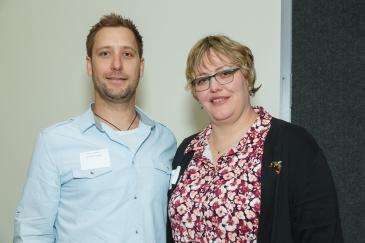 Oliver is studying the impacts of glacier melt on soil moisture and regional hydrology in the Peruvian Andes. Chris is studying neoliberal waste management in Managua, Nicaragua, examining the social and political impacts of the city's privatization of landfills. Both recipients received $1,000.
The E. Willard and Ruby S. Miller Fellowship ('Miller Fellowship') This year's E. Willard and Ruby S. Miller Fellow is Alfonso Fernandez.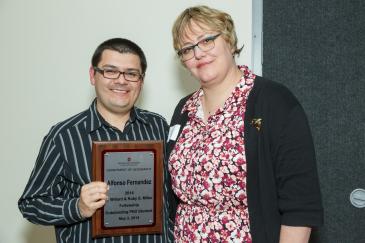 Alfonso is a broadly trained climatologist. In his dissertation work, he has employed a variety of quantitative methods (e.g., GIS, remote sensing and modeling), to inventory glaciers and understand the spatial and temporal dynamics of glacier change in a context of rising regional temperature. In his letter of nomination, Alfonso's adviser praises the breadth of his research interests and expertise, linking water resources and global and regional climate. At this time, Alfonso has nine peer-reviewed publications, and many more in progress. The E. Willard and Ruby S. Miller Fellowship Award is the highest recognition the department can bestow on a Graduate student. The award is given in recognition of potential to make a major contribution to geography or its sub-field(s), particularly through scholarship and scholarly writing. The award is for $4,000.
Personnel Committee Chair, Dr. David Bromwich Presented,
S. Earl Brown Outstanding Staff Award and the
Lawrence A. Brown Faculty Fellow Award
S. Earl Brown Outstanding Staff Service Award: New this year.
Purpose: Recognition of an individual staff member in the department of Geography who has demonstrated excellence in overall job performance above and beyond their prescribed duties. The award goes to Jens Blegvad.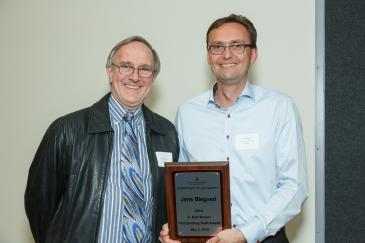 A quote from one nomination letter: "He has always been totally reliable, very responsive, wonderfully patient, willing to go out of his way to help and, the ultimate criterion, extremely effective."
Lawrence A. Brown Faculty Fellowship Award:
Purpose: recognizes demonstrated excellence as a professional geographer by a faculty member of The Ohio State University Department of Geography. A primary aim of the award is to support on-going work that demonstrates high potential to make an exceptional contribution to geography and further professional development of the Fellow. And this award goes to Alvaro Montenegro.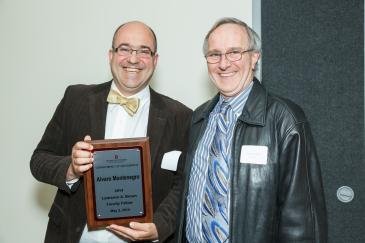 He is a physical oceanographer who has found a very wide range of applications for his oceanographic knowledge/expertise.
Congratulations to all of our 2013-14 Graduates and Award winners. This concludes our official Awards ceremony.