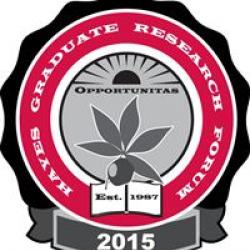 Hayes Graduate Research Forum Applications Open Oct 1st
Every year the Graduate School, Office of Research and the Council of Graduate Students team up to put on the Edward F. Hayes Graduate Research Forum, one of the largest research forums at Ohio State, featuring the entire range of academic areas. This year's 29th edition of the Hayes Forum will take place on Friday, February 20, 2014. This is a great opportunity to present your academic research, receive feedback from faculty and other graduate students, and collaborate with graduate students across disciplines right here at Ohio State! Cash prizes will be awarded to the top-judged oral and poster presentations in each academic category.
Applications for oral presentations and poster sessions at the 2015 Hayes Forum will be accepted starting Wednesday, October 1, 2014. Please check out http://cgs.osu.edu/hayes-forum/ for more information on the forum, guidelines to presenting, and past results. Applications must be submitted by the end of the day Friday, November 14, 2014. I would strongly encourage all graduate students interested in presenting their research to apply!