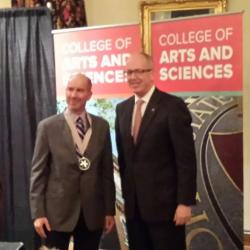 Harvey Miller, Professor of Geography and the Bob & Mary Reusché Endowed Chair in GIScience, was honored during the inaugural College of Arts & Sciences Honoring Excellence ceremony on Oct. 15, 2014.
Professor Miller joined the Geography Department in the Fall of 2013 and his research and teaching focus is on the intersection between geographic information science and transportation science.
Congratulations, Harvey!