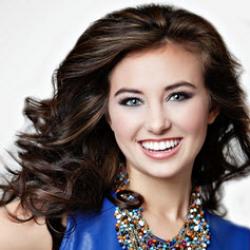 Congratulations are in order for Atmospheric Sciences Undergrad Mackenzie Bart who was crowned Miss Ohio 2014 at the Miss Ohio Scholarship Program pageant in Mansfield on Saturday, June 21, 2014. She and her ventriloquist figure, Roxie, energetically wowed the crowd with her own rendition of Disney's Mary Poppins "supercalifragilisticexpialidocious" garnishing the overall Grand Talent Award. She was also the recipient of the Miss America Community Service Scholarship Award, and the Gold Duke of Edinburgh's Award.
As a senior at The Ohio State University in Columbus, she is seeking her Bachelor of Science degree in Atmospheric Sciences and further plans to obtain a Masters degree in Meteorology. She hopes to one day host a children's educational weather program and is currently an intern with The Weather Channel, in Atlanta, GA. and has worked at various other weather broadcasting outlets. Because of her passion for weather and keeping others safe, she contributed to the Ohio State Meteorology Club initiative "Buckeyes for Moore", where she accompanied club members to Moore, Oklahoma, on a post tornado rebuilding expedition with Habitat for Humanity rebuilding homes for victims of the tornado.
Mackenzie will compete for Miss America on Sunday, September 14, 2014 live on ABC. Good Luck Mackenzie we look forward to seeing you win the Miss America title.