October 20, 2020
News Brief from Our Chair Darla Munroe
Image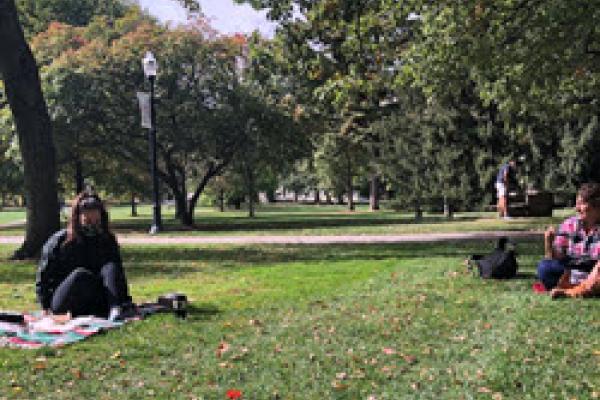 Description
PhD students Rebecca Chapman and Anisa Kline participate in a socially-distanced lunch on the Oval.
Student News:  
Real-time public transit information on your smartphone is reassuring, but does it save waiting time? In a recent paper published in Transportation Research A, Luyu Liu (PhD student, Geog) reports - not really. Analyzing a year of real-time bus location data, he finds that, on average, using real-time data is no better than simply following the schedule. But, real-time data can help some people depending on where they live on the bus route and how close to a stop.
Upcoming Events:  
Today's Robinson speaker is Brian Jefferson from UIUC, Computerizing Carceral Power, 3:30 pm.

In two weeks, we have Sara Smith from UNC Chapel Hill, The Cene Scene: CenteringIndigenous and Black Environmental Visions. 3:30 pm, Friday, 10/30.

Join scholars and professionals from across Ohio's 3C corridor to celebrate the power of geospatial methods and technologies at 3C GIS Day, Wednesday, November 18 from 9 am to 4 pm
Geography Blog:  
This week's blog was written by the Editor of the OSU Geography journal Geographical Analysis, Rachel Franklin. Why We Count: Geographers and the US Decennial Census.
Darla Munroe
Professor and Chair
---