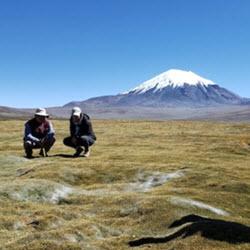 PhD candidate in Geography Gabriel Zeballos-Castellon conducted fieldwork in July with partners from the University of San Andres, Utrecht University, and the French Institute of Research for the Development, in Sajama National Park, Bolivia. The project is "Spatial and temporal characterization of the High Andean Cushion Wetlands of Bolivia."
Faculty News:
Stavros T. Constantinou (OSU Mansfield) has been awarded $5,000 in funding support from the Sustainability Institute for his Education Abroad Program in Cyprus titled "Geog 3753.02: Geography of the European Union." This funding is intended to reduce the program fee for all students who enroll during Summer 2020.
Alumni News:
Matthew Campbell (BS Atmospheric Science, 2017) was just hired by the Wilmington, OH, office of the National Weather Service.

Megan Jones (MS, ASP, 2018) is lead author on a manuscript published by the Journal of Climate: Sixty years of widespread warming in the southern mid- and high-latitudes (1957-2016). Co-authors include OSU research professor David Bromwich, Julien Nicolas (Ph.D., ASP, 2014), Jorge Carrasco (Ph.D., ASP, 1994), Eva Plavcová, Xun (Jerry) Zou (Ph.D. candidate, ASP), and Sheng-Hung Wang (Ph.D., ASP, 2004). Megan currently works as a meteorologist with U.S. National Weather Service in Bismarck, North Dakota.
Darla Munroe
Professor and Chair