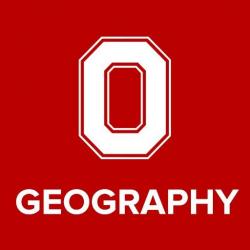 Happy Fall Break! I took the opportunity to come back down to Laurelville, and Glouster, Ohio to interview community members about forest-community development connections (USDA-AFRI funded research). It is beautiful down here in the Hocking Hills with the changing leaves.

Faculty member Kenneth Madsen attended the Border Walls conference in Montreal Sept. 27-28. In addition to presenting on his research about legal waivers issued by the Department of Homeland Security to facilitate construction of barriers on the U.S.-Mexico border, he also displayed copies of some of the photographs from his current photo exhibit on the OSU Newark Campus.
The Council on Academic Affairs' Centers Review Committee, chaired by Professor Celia E. Wills, completed a thorough review of the Center for Urban and Regional Analysis, directed by Harvey Miller. The Council voted to support the for continuation of the Center. The next review will occur during the 2022-2023 academic year. Congrats to CURA and all its members!
Finally, everyone has been reeling from the just released IPCC Working Group III report just released on 1.5 degrees warming. One bit of reassuring information amidst this terrible news is the central contribution of geographers to the generation of this report. Diana Liverman, University of Arizona, one of the report's authors, tweeted that 21% of the authors had a degree in geography. These are dark times, but also times when geographic scholarship, and intellectual and community leadership are more important than ever.
https://www.nytimes.com/2018/10/07/climate/ipcc-climate-report-2040.html