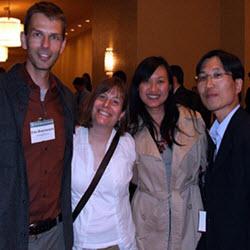 It's relatively quiet in Derby Hall, as many of us prepare for our upcoming American Association of Geographers Annual Meeting in Washington, D.C. next week.
AAG Alumni Party 2010, Washington, D.C. Featuring alumni from left to right: Eric Boschmann, Diane Snediker (US Census Bureau), Theresa Wong, and Hyun Kim.
Student News:
PhD Candidate Deondre Smiles has been selected as a 2019 Cobell Graduate Research Summer Fellow. This program awards support to American Indian and Alaska Native graduate students. He will be using these funds to conduct summer fieldwork and archival research in Minnesota as part of his dissertation project.

The OSU Meteorology Club held their 23rd Annual Severe Weather Symposium in the Ohio Union yesterday. Congratulations to the Meteorology Club, Club President James White and Symposium Head Coordinator (and incoming MS student) Joshua Steiner.
Alumni News:
Next week at the AAG is our OSU Alumni Party. Thursday, April 4th, 7:30 pm at Local 16. There is still time to RSVP
Upcoming Events:
Today is our last colloquium of the year. Our 2018-2019 Robinson speaker is Lonnie Thompson, OSU Distinguished University Scholar and Professor in the School of Earth Sciences. 3:30 pm in Derby 1080, reception to follow.

The Arthur H. Robinson Colloquium Series: Arthur Robinson received his Ph.D. from Ohio State in 1947 and Honorary Doctorate in 1984. He created the Robinson projection that is now a standard for world maps, having been adopted extensively by the National Geographic Society. Robbie had a distinguished teaching and research career at the University of Wisconsin, is a major figure in Twentieth Century cartography, and remained an active scholar until his death in 2004