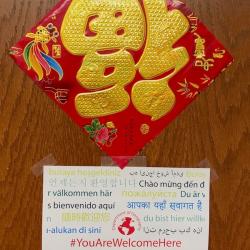 Happy Year of the Rat! From Derby 1066, Graduate Geography Organization's Lunar New Year Party 2020. Photo credit: Polina Berezina.
Faculty News:
Yue Qin received an early-career award (Yuxiang Early Career Award) from thee Chinese American Oceanic and Atmospheric Association (COAA). The award aims to recognize outstanding Chinese and Chinese-American young scholars in oceanic and atmospheric sciences and related fields.
Staff News:
Beginning on Wednesday, February 5th, we will have a new Academic Program Specialist joining our advising team: Allison (Ali) Grandey. She most recently worked in the OSU School of Music. Dr. Grandey has a Doctorate in Musical Arts from Eastman School of Music (in voice performance and literature). Her prior experience in recruiting and admissions for the School of Music will be a welcome addition to our staff. Please stop by Derby 1049 some time late next week to give her a warm welcome!
Upcoming Events:
Today's colloquium speaker is Sapana Doshi, "Racial Capitalism and the politics of Global Urbanization, A View from Mumbai." 3:30 pm, Derby 1080
Darla Munroe
Professor and Chair