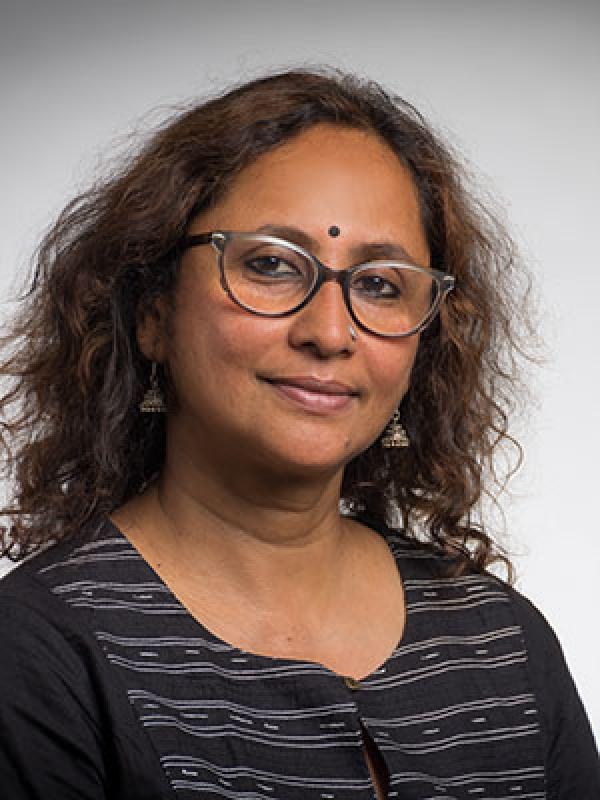 Madhumita Dutta
Assistant Professor, Faculty Affiliate, Women's, Gender and Sexuality Studies.
1178 Derby Hall
154 North Oval Mall
Columbus OH 43210
Areas of Expertise
Labor Geography
Gender
Politics of Development
Education
Ph.D., 2016, Geography, University of Durham, UK.
M.Sc.,1994, Environmental Science, Jiwaji University, Gwalior, Madhya Pradesh, India.
B.Sc.,1992, Delhi University, Delhi, India.
Current CV:
Interests:  Labor, gender, politics of development, South Asia, creative methodologies.
Current Research: My interests are in the everyday politics of labor, life stories of workers, women and work.
Courses Taught: 
GEOG 2400: Economic and Social Geography
GEOG 5501: Urban Spaces in the Global Economy
GEOG 5802: Globalization and Environment
Select Publication:
Book:
Dutta. M. 2021. Mobile Girls Koottam: Working Women Speak, Zubaan, New Delhi. The University of Chicago Press

Nowak J, Dutta M, and Birke P (eds). 2018.  Workers' Movements and Strikes in the Twenty-First Century: A Global Perspective. Rowman & Littlefield International.
Articles:
Dutta, M., and K. McSweeney. 2023. Undergraduates' experience of Geography in US universities. Transactions of the Institute of British Geographers. https://doi.org/10.1111/tran.12623
Dutta, M. 2022. 'Kitchen, Farm, Room – Spaces of transnational feminist theorizing by working class women in India.' Austrian Journal of Development Studies
Bhaskaran, S., Dutta, M., Naidu, S.  2021. Flattening the Curve or Flattening Life? Public Service Announcements in the Pandemic Economic & Political Weekly
Dutta, M. 2021 Becoming 'active labour protestors': women workers organizing in India's garment export factories Globalizations
Dutta, M. 2020. Workplace, emotional bonds and agency: Everyday gendered experiences of work in an export processing zone in Tamil Nadu, India, Environment and Planning A
Dutta, M. 2019. 'Becoming' factory workers: understanding women's geographies of work through life stories in Tamil Nadu, India, Gender, Place & Culture.

Dutta, M. 2019. Turning Productive Failures Into Creative Possibilities: Women Workers Shaping Fieldwork Methods In Tamil Nadu, India. Geographical Review

Dutta, M. 2016. Place of life stories in labour geography: why does it matter? Geoforum, Vol. 77, 1-4.
Dutta, M. 2016. The Nokia SEZ Story: Economy of disappearances. Economic & Political Weekly. Vol. L1 (51), 43-51.
Editorial:
Global Labour Studies in the Pandemic: Notes for an Emerging Agenda
https://mulpress.mcmaster.ca/globallabour/article/view/4329
Book review symposium:
Antipode book review symposium organized by Madhumita Dutta Stories from a Migrant City: Living and Working Together in the Shadow of Brexit
https://antipodeonline.org/2020/07/27/stories-from-a-migrant-city/
Select Awards & Recognition:
EPA: Economy and Space Ashby Prize, 2020
Lawrence A. Brown faculty fellow, Geography, Ohio State, 2018
Report:
Sourcing Dynamics, Workers' Rights, and Inequality in Garment Global Supply Chains in India by Dr. Mark Anner in collaboration with Dr. Madhumita Dutta, November 2019
This report has argued that apparel global supply chains are characterized by growing power imbalances between finance capital and buyers that sit at the top of the chains and the suppliers and their workers at the bottom. The model suggests that buyers squeeze suppliers on price and suppliers squeeze workers on wages and working conditions. What this study found was considerable evidence of a price squeeze. Indeed, for products exported to the US since 1994, there has been a 63 percent decline in the real dollar price per unit paid by US buyers to Indian suppliers. Read on: https://ler.la.psu.edu/gwr/documents/CGWRGarmentSourcingandWorkersRightsinIndiaNov.152019.pdf
Good Land: Bad Bank - Deadlocking valuable land in unproductive industrial land banks in India. January 2019.