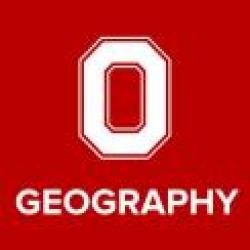 Desheng Liu gave a keynote speech at the Third International Conference on Spatial Data Mining and Geographical Knowledge Services in Wuhan, China. The title of the talk was "Spatiotemporal Mining of Earth Observation Data: Challenges and Opportunities."
Bryan Mark and Jim DeGrand along with others (Aaron Wilson, Jason Cervenec, Wes Haines) spent a productive 3 days at the booth sponsored by the State Climate Office of Ohio (SCOO) and the Byrd Polar and Climate Research Center at this year's Farm Science Review. SCOO took this opportunity to beta test its mobile app "FARM" (Fertilizer Application Resource Monitor) developed with funds from the OSU "Connect and Collaborate" grant program. The app allows producers to determine in real time whether the application of liquid fertilizer and/or manure on user defined fields would be compliant with recent regulations which prohibit such applications when heavy rainfall is forecast. SCOO's FARM app can be found here.
Morteza Karimzadeh has just published a co-authored paper in the International Journal of Geographical Information Science: "GeoCorpora: building a corpus to test and train microblog geoparsers."
In other news:
We are going to kick our social media / communications game up to the next level. I am working with Caitlin Naber to write a MailChimp campaign that will be distributed widely. We have already developed a template and we are set to test it soon. We will include: faculty news; news from / about grads; jobs; alumni; awards etc. This should help with the goal of building community, and enhancing the sense of disciplinary identity. We have heard that many of our alums would like to be connected in this way.
If you have items that might be appropriate for any of my communiques, please send on.
Here are some of the great plans Diane Carducci has carefully arranged for the Sharpe Visit on Monday:
Timeline of Events, Sharpe Innovation Commons, September 25, 2017
3:00–3:30 pm, Opening Ceremony, Derby 0151
3:30-4:30 pm, Reception, Derby Hall Gallery
3:30-4:30 pm, Open House for Geography Major/Minors, in the new facility

We would be especially pleased if you have an opportunity to meet and greet during the reception! (Times are subject to adjustment.) More details to follow, Monday AM.