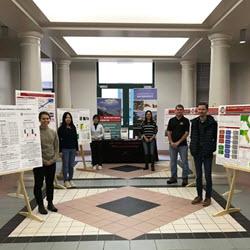 Faculty News:
Harvey Miller was a Team Mentor in the THRIVE Columbus Transportation Innovation Weekend during November 16-18. The event was a rapid problem solving experience that brought together a diverse group of community leaders, stakeholders and citizens to explore the impact of Columbus' growing transportation systems on communities, jobs and the economy. The event was organized by City Council president Shannon Hardin, facilitated by The Purple Aisle (a civil leadership accelerator) and held at the Columbus Idea Foundry. The winning team devised a sustainable plan for local government to encourage businesses to provide public transit as an employment benefit.

On November 28th, Harvey Miller gave a presentation on "Smart transportation networks: Analytics and innovations to enhance mobility" to newly elected Ohio legislators as part of a New Member Orientation organized by the Ohio Legislative Service Commission and the Glenn College of Public Affairs. Harvey's talk, co-presented with Jiaqi Ma (University of Cincinnati) enlightened the new legislators on the opportunities and challenges of smart mobility in Ohio.

Joel Wainwright recently guest-edited a special issue of Rethinking Marxism focusing on Israel/Palestine. The issue was released this Wednesday (table of contents). The issue includes an interview Joel conducted with the world-famous linguist Noam Chomsky.
Student News:
On Thursday, November 15, graduate students from Geography and Atmospheric Science successfully held the first annual GEO Week Graduate Research Forum. The event was designed to showcase the wide variety of research conducted by graduate students in the department. Arianna Hall-Reinhard (PhD), Emily Sambuco (MS), Blake Acton (MA), Ariel Rawson (PhD), Megan Lindstrom (PhD), and Sohyun Park (PhD) gave talks on their respective projects, while Jordan Pino (PhD), Ning Zhang (PhD), Zachary Leasor (PhD), Jiayong Liang (PhD), Claire Jones (MA), and Zhiying Li (PhD) presented posters in the Derby Hall lobby. Faculty, staff, undergraduates, and fellow graduate students all turned out to support the presenters. Special thanks to academic advisor Nancy Coscia and Geography Graduate Organization chair Bonnie Bounds for organizing.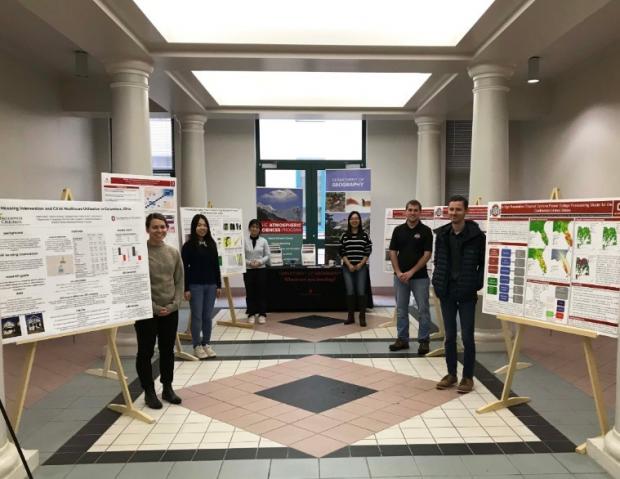 GEO Week's Graduate Student Forum Poster presenters left to right, Claire Jones, Zhiying Li, Jiayong Liang, Ning Zhang, Zachary Leasor and Jordan Pino. Photo: Jocelyn Nevel


Geography undergraduate Claire Mercer (BS, Spatial Analysis, honors) was featured in the most recent issue of Trajectory, the official magazine of the US Geospatial Intelligence Foundation. Mercer received a scholarship from the USGIF, an award reserved for highly qualified students with interests in Geospatial Intelligence. She plans to intern with the National Geospatial Intelligence Agency as a visualization specialist this summer. She is currently in Jordan on Study Abroad.
Darla Munroe
Professor and Interim Chair