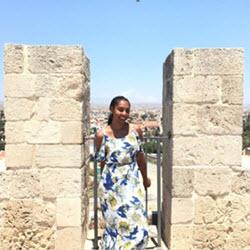 Brianna Cunningham (BS student in GIS) in Cyprus as part of the study abroad course, GEOG 3753.02 (Geography of the European Union) see story and further links below..
Faculty News:
Becky Mansfield is giving the Keynote address at a forum on Humanities: Land Sea Space on December 7, hosted by the Glasscock Center for Humanities Research at Texas A&M University.
Student News:
Guille Bervejillo (PhD candidate), Ashley Toenjes (PhD candidate) and Deondre Smiles (PhD student) ran a frank, fun, and productive panel on 'Life as a Graduate Student' in GEOG 4101 (Undergraduate Research and Professionalization). They tackled a number of interesting topics related to their career trajectories, their research interests, the transition out of an undergraduate degree into the 'real world', balancing work and life, and the general culture of graduate school. Instructor Mat Coleman reports that it was the best class of the semester.
Brianna Cunningham (GIS major) was featured recently in the Office of International Affairs' Buckeyes Abroad. She participated in the study abroad class GEOG 3753.2 (Geography of the European Union) last year (taught by OSU Mansfield campus faculty Stavros Constantinou), and vlogged about her experiences.
Upcomming Events:
Undergraduate Graduation Reception on Friday, Dec. 14 at 1:30 – 3:00 PM in the Faculty Club. This reception is intended to honor our BA / BS graduates from Summer and Autumn semesters 2018 to give them a positive farewell from the Geography Department.
Geography Department Holiday Party, Friday, Dec. 14! Swing by 1080 all day long for breakfast and lunch, and 1116 to watch back-to-back holiday movies. If you are participating in the Secret Santa gift exchange, drop off your gift in 1116 by noon, and the White Elephant will be held in 1080 at 12:30.
Darla Munroe
Professor and Interim Chair