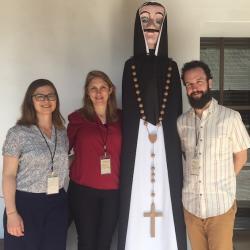 OSU faculty and alumni attend the recent conference of Latin Americanist Geographers in in Antigua, Guatemala. From left to right: Zoe Pearson (PhD, Geography 2016), Kendra McSweeney (faculty) and Nick Crane (PhD, Geography 2014). Following the main conference, there was a special symposium in Selva Maya held in an 18th century former convent.
Faculty News:
The business magazine, Apparel Insider, referenced a recent report to which Madhumita Dutta contributed. Link.

Joel Wainwright's recent book, Climate Leviathan, was mentioned in a recent Foreign Policy article
Alumni News:
Abdilahi Hassan (BA, Geog 2016) was featured in a USA Today article: Ethnic eats in Columbus, Ohio: From Nepal to Somalia, it's all here. Picture here. [Many of us know him as AB].

Elizabeth (Libby) Wentz (MA, Geography 1989), professor in the School of Geographical Sciences and Urban Planning and dean of social sciences in the College of Liberal Arts and Sciences, Arizona State University, has been appointed vice provost and dean of the Graduate College.
Darla Munroe
Professor and Chair