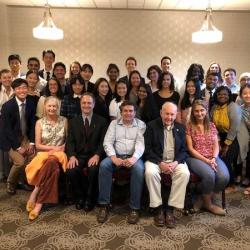 Faculty members Kendra McSweeney and Gil Latz (vice provost for global strategies and international affairs) attended the recent dinner for the Global Leadership Initiative.
Faculty News:
Joel Wainwright's co-edited book, Rethinking Israel and Palestine: Marxist Perspectives, was published this week by Routledge.
Student News:
Hana Le (BS student, Biology and Creative Writing) studied abroad on the Geog 3753.02 Geography of the European Union (taught by Stavros Constantinou of OSU Mansfield) education abroad program during May 2019 and has a featured testimonial by the Office of International Affairs.
Staff News:
Diane Carducci (Assistant to the Chair) has announced that she will be retiring in December, after 21 years of service to this department. This goodbye will be bittersweet: we wish her well in enjoying the time with her family. Diane has also uniquely paid attention to and cared for the many students, staff and faculty who have graced these halls in the last two decades. She leaves big shoes to fill! (Even if they are only size 7 1/2).
Alumni News:
Harvey Miller (faculty) traveled to California to attend a recent salon event in Menlo Park hosted by a couple who are friends of the College of Arts and Sciences. The salon focused on a discussion of autonomous vehicles and the future of cities. About 15 OSU alumni participated. Jake Carr (Geog PhD, 2017), now Associate Director, Moody's Analytics, was a participant.
Upcoming Events:
Upcoming colloquia (3:30 pm, 1080 Derby Hall):
Friday, 10/18, Youjeong Oh, University of Texas-Austin, "Pop city Korean popular culture and the selling of place."
Friday, 10/25, Max Woodworth, OSU Geography, "Picturing ruin in urban China."
Darla Munroe
Professor and Chair