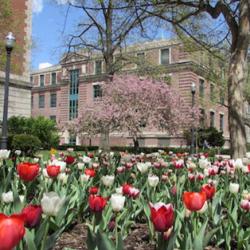 Derby Hall. (Photo credit: Jens Blegvad).
Faculty News:
Jialin Lin was featured in a College of Arts and Science news story "Solving climate's toughest questions, one challenge at a time."

Elisabeth Root has been integral in informing Ohio's COVID-19 response. She is contributing her expertise to monitor how the coronavirus is spreading; using spatial-temporal modeling to inform policy decisions; and advising public health officials on strategy.
Student News:
Zhiying Li (PhD candidate) was awarded the Presidential Fellowship for her last year of the PhD program. This is the most prestigious award that the Graduate School bestows.

Megan Lindstrom passed her PhD candidacy exams this week. Her project is titled, "Spatial Analysis of Harmful Algal Blooms and Non-Alcoholic Liver Cirrhosis." Her committee consists of Amanda Berrian (College of Veterinary Medicine), Darla Munroe, Steven Quiring and advisor Elisabeth Root.

ESRI is offering free software through Learn.arcgis.com to support college and university students who no longer have access to campus computer labs during the COVID-19 outbreak. This offer is good through August 30th.
Upcoming Events:
Please join us for our annual Graduation and Awards Ceremony today at 4 pm.
Geography Blog:
For Summer 2020, our planned theme is Research in the Field. The inaugural entry was penned by Kendra McSweeney, titled, "Un-immersive Fieldwork," grappling with how fieldwork will evolve during a pandemic.
Darla Munroe
Professor and Chair