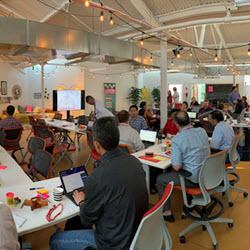 CURA organized a workshop this week at the STEAM Factory, New Mobility and Cities.
Faculty News:
Earlier this week, the Center for Urban and Regional Analysis (CURA) along with the STEAM Factory, the Sustainability Institute (SI) and Portland State University (PSU), hosted a National Science Foundation (NSF) sponsored workshop on New Mobility and Cities. The two-day workshop focused on exploring a research network of urban sustainability observatories through data-enabled university-community partnerships. One of the big topics of the workshop was, what data will be needed to build a network of observatories? The workshop was attended by over 60 representatives in academia, the private sector, and the public sector.
Student News:
Bonnie Bounds successfully defended her PhD dissertation, titled "Distress and Success in Small Places: Prosperity, Gendered Educational Attainment, and Skilled Occupations in the Nonmetropolitan US." Her committee consisted of Linda Lobao (SENR), Ed Malecki, Leah McHale as the Graduate School representative (Horticulture and Crop Science) and Darla Munroe, advisor. Bonnie is on her way to Texas A&M later this summer to begin her new job as visiting assistant professor in the Department of Geography this fall.
Claire Jones successfully defended her Master's thesis, "Neighborhood Housing Intervention and Birth Outcomes in Columbus, Ohio." Her committee included Harvey Miller, Deena Chisolm (Public Health), and Elisabeth Root, Advisor.
Alumni News:
John Agnew (PhD, Geography 1976) has been awarded the Vautrin-Lud prize for outstanding achievement in the field of geography.
Minkyung Koh (PhD, Geography 2018) has been appointed as a research professor at the Academy of Mobility Humanities at Konkuk University, in Seoul, Korea.
Clarie Parkinson (PhD, Geography and Climatology, 1977), Senior Scientist at NASA's Goddard Space Flight Center was recently featured in a Guardian article, 'Precipitous' fall in Antarctic sea ice since 2014 revealed.
Upcoming Events:
July 22-28 is Staff Appreciation Week, an annual celebration of Ohio State staff members to recognize their contributions to the university.
Darla Munroe
Professor and Chair