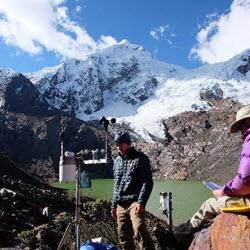 Emilio Mateo (Geog PhD candidate) writes about his work in the Peruvian Andes in this week's blog, A Path to Fieldwork.
Faculty News:
Professor of geography and Associate Vice Provost for Academic Enrichment Ola Ahlqvist studies the impact the definitions of terms have on research — like what defines a forest. Listen to his discussion with host David Staley on the recent "Voices of Excellence" on Soundcloud and iTunes.

Bryan Mark's project "Tracing Cryo-Hydro-Social Transformations in the Tropical Andes" has received the 2020 Distinguished International Engagement Award. This award recognizes outstanding achievement in and commitment to international outreach and engagement through a project with a long-term record of sustained impact.

Elisabeth Root has received the 2019-20 ASC Mid-Career Faculty Excellence Award, which recognizes outstanding performance in all three areas of research, teaching, and service of mid-career faculty at the time of promotion to professor.
Student News:
Zhiying Li (PhD candidate, ASP) received a National Science Foundation Doctoral Dissertation Research Improvement Award for her project, "Assessing Factors that Influence Streamflow."
Alumni News:
Lili Wang (PhD Geog, 2016) has accepted an Assistant Professor position (tenure track) in the Center of Social Sciences of Southern University of Science and Technology (SUSTech) in Shenzhen, China.

Chen Zhao (PhD ASP, 2020) has accepted a position as a Backend Developer for Synoptic Data. This position is based in Salt Lake City and will begin in July.
Geography Blog:
This week's entry for "Research in the Field," was penned by Emilio Mateo (PhD candidate, Geog), "A Path to Fieldwork."

In a special edition of a COVID-19 themed post, graduate students enrolled in Geog 5103 (Intermediate Spatial Data Analysis) last spring analyzed covariates of health (race, age, poverty) and spatial patterns of COVID-19.
Darla Munroe
Professor and Chair