February 18, 2022
News Brief From Our Chair, Darla Munroe
Image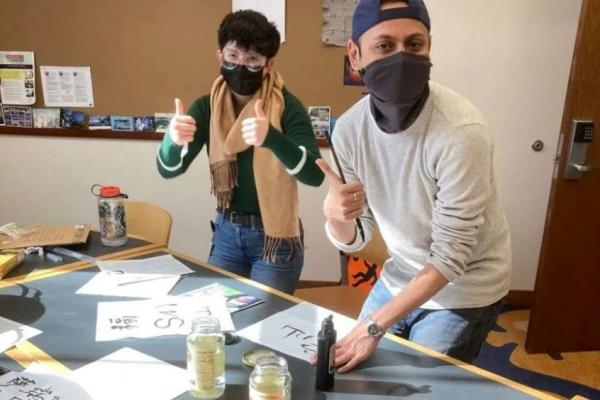 Description
PhD students Sara Moya and SM Ahsanullah write their names in Chinese calligraphy at the Lunar New Year party hosted by the Geography Graduate Organization. Happy Year of the Tiger!
Faculty News: 
Madhumita Dutta is featured as an expert in the article titled "Zara, Nike, and Abercrombie's Indian Factories Weren't Fully Paying Workers." This article discusses how more than 1,000 clothing factories failed to pay their workers the legal minimum wage in the Indian state of Karnataka. Click here to read the full article.
Student News:
Sydney Trem, an undergraduate studying history, along with two other students had lunch with Kendra McSweeney through the Take Your Professor to Lunch Program. McSweeney was able to connect with her students and help Trem develop a potential research project about the Italian mafia's influence in Trem's hometown of Cleveland. 

Yuechun Wang (PhD ASP, 2021) was awarded the AAG Climate Specialty Group's John Russell Mather Paper of the Year for her publication: Observed Influence of Soil Moisture on the North American Monsoon: An Assessment Using the Stepwise Generalized Equilibrium Feedback Assessment Method in Journal of Climate. Yuechun will give a plenary talk on this paper at the upcoming AAG Annual Meeting. She will also receive a cash award
Events: 
Our next speaker will be Lesley-Ann Dupigny-Giroux, from the University of Vermont, and the Vermont State Climatologist. Her talk is titled, Exploring climate change through the lenses of vulnerability and inclusion. Friday, March 4, 3:30 - 5 pm over Zoom. More details here.
ASP Internship Website:
An Atmospheric Sciences Internship Website was launched on February 7
This website provides undergraduate and graduate students in ASP with information about internships that are available in broadcast meteorology, from Federal Agencies, and in the Private Sector. It also provides links to NSF Research Experiences for Undergraduates Programs. Thanks to Jackie Beck (MS student ASP) for volunteering to put this together! Please feel free to contact her if you are aware of additional internship opportunities that should be included (beck.746@osu.edu).
Geography Blog: 
This week's blog was written by Laurel Bayless (Geog BS, 2021), titled, "Learning Beyond the Classroom."
Darla Munroe
Professor and Chair
---