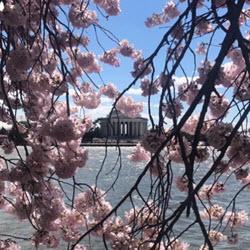 Spring is in full bloom in Washington, D.C.
Faculty News:
Kendra McSweeney and coauthors have published a paper in PNAS, Modeling cocaine traffickers and counterdrug interdiction forces as a complex adaptive system
Student News:
Sohyun Park (PhD student, advisor Darla Munroe) received a Global Gateway Grant to conduct fieldwork in South Korea this summer for her dissertation project on Korean strawberry seeds and environmental governance.

Gabriel (Gabo) Zeballos Castellon (advisor Bryan Mark) passed his PhD candidacy exam. His dissertation project is titled, "High-Altitude Organic Cushion Wetlands of Bolivia: Spatial and Temporal Characterization."
Please join us in congratulating Mary Grace Thibault on passing her MS exam and the successful defense of her MS thesis: "Modeling seagoing migration of early Homo via paleoclimate drift experiments to Sulawesi, Indonesia".
Her committee included Alvaro Montenegro (Adviser), Bryan Mark and Julie Field (OSU Anthropology).
Congratulations Mary Grace! Wishing you all the best!
The current issue of the Professional Geographer has four articles from current and past students:
Jake Carr, Shaun Fontanella, Calvin Tribby, Jonathan Rush, Bo Zhao, Scarlett Jin and Hui Kong.