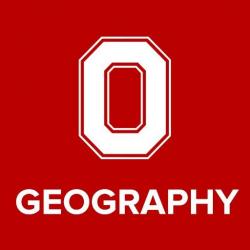 Lots of news this week!
Desheng Liu is currently visiting the Department of Geography at the University of Concepción in Chile this week. During his visit, he worked with Prof. Edilia Jaque and Prof. Alfonso Fernández (OSU alumnus, Bryan Mark's former PhD student) on a research project to examine the impacts of forest change on biodiversity loss, rural economies, and wildfires under the current Chilean forestry model. In addition, he attended the 39th National Congress of the Chilean Society of Geographical Sciences and gave an opening keynote address on the challenges and opportunities of developing spatiotemporal data mining techniques using earth observation data on Tuesday.
Bryan Mark gave at TedX talk this past Wednesday at Whitehall-Yearling High School.
Harvey Miller was part of a panel on health, mobility and city planning discussed what it would take to make central Ohio and the Columbus campus a more walkable or bikeable community last week at a conference at Pomerene Hall. It was part of Ohio State's Mobility Week.
Several of our graduate students, faculty and Graduate Program Coordinator Rebekah Sims attended the East Lakes Division of the AAG conference at Ohio Northern University in Ada, Ohio. Graduate students Blake Acton (MA) and Arianna Hall (PhD) won awards for their presentations. Buckeyes out representing in our local region!
PhD student Sam Kay gave a talk (titled "Multipli/city" or "多重性/城") for a mostly Chinese audience at the US Embassy in Beijing relating some of his photography projects to urban studies. It prompted an interesting conversation about scrutinizing the taken-for-granted and the limitations of signifiers.
CURIO now available to public
The Columbus Urban & Regional Information Observatory (CURIO) visualizes and maps open geospatial data for Columbus, Ohio, USA, helping citizens understand the character and pulse of the city where they live. Many public agencies and other entities publish their data the World Wide Web. CURIO highlights the power of integrating and mapping these data for exploring and understanding the dynamics of a city. The Ohio State University's Center for Urban and Regional Analysis (CURA) developed CURIO with the support of the College of Arts and Sciences.