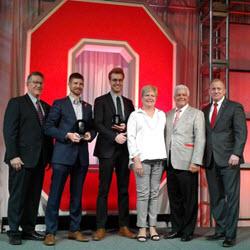 Research and Innovation Showcase photo from April 24, 2019. From left to right, Scott Osborne (Interim Vice President, Economic and Corporate Engagement), Tim Raderstorf (College of Nursing), Forrest Schoessow (Geography PhD student), Connie and Gary Sharpe, and Morley Stone (Senior Vice President, Office of Research).
Faculty News:
Mat Coleman has been appointed as the Associate Director of Ohio State's Criminal Justice Research Center. CJRC was established in 1989 as a clearinghouse on campus for research on criminal justice, and among other things runs competitive seed grant opportunities for faculty and grad students. Mat will be working under the new CJRC Director, Paul Bellair (Sociology). Paul and Mat will be making some significant changes to CJRC over the coming year, so keep posted for details.
Desheng Liu is part of a new Center for Applied Plant Sciences-sponsored Scientific Team - Strategic Modern Approaches for Resilient Trees (SMART) led by Enrico Bonello from Plant Pathology.
Bryan Mark and Jim DeGrand (Senior Researcher & Lecturer) are part of a team led by Jason Cervenec at the Byrd Polar and Climate Research Center who won an award from the Sustainability Institute on OSU's Urban Heat Island.
Darla Munroe
Professor and Interim Chair