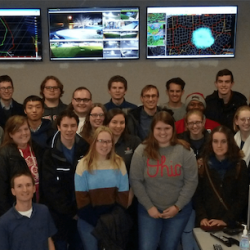 The 24th Annual Severe Weather Symposium took place on Friday February 14, 2020 at the US Bank Conference Theater in the Ohio Union. The presentations given are available at this link.
Faculty News:
Yue Qin is an author on invited piece, 'Cleaning City Skies' in One Earth. She is among 12 global experts on the topic, weighing in on key problems and priorities in dealing with urban air pollution.
Student News:
Yuxiao Zhao passed her Masters exam Thursday. Yuxiao's committee incuded Dave Ogle (Computer Science and Engineering), Harvey Miller, and Ningchuan Xiao as advisor. The title of Yuxiao's research paper was "Multimodal and Multiobjective Routing Using 3D Networks: A Case Study of the Ohio State University Campus." Yuxiao is currently finishing a second masters degree in Computer Science and Engineering. She has accepted a job at ESRI and will be heading to the Inland Empire this summer.
In Memoriam:
Our alumnus Dr. Tiruvarur R. Lakshmanan passed away at his home in North Carolina last week. Together with his wife, Dr. Lata Chatterjee, he established The T.R. Lakshmanan and Lata R. Chatterjee Graduate Scholar in Geography Endowment Fund in our department in 2009. This fund is used to recognize a distinguished graduate student either from the Global South (Asia, Africa, or Latin America) or carrying out research on the Global South, and professionally focused on issues of benefit to humanity. He also received an honorary doctorate from OSU in 2007.

Dr. Lakshmanan was Vice President of Consad Research Corp. before he joined the faculty at Johns Hopkins. Later, he had served as a Professor and Chair of the Department of Geography at Boston University. He was the founder of the Bureau of Transportation Statistics at the US Department of Transportation where he was a presidential appointment and Senate-confirmed Director during the Clinton Administration.
Upcoming Events:
Today's speaker is Vinay Gidwani from the University of Minnesota. His talk is titled, The Infrastructure of Values. 3:30 pm, 1080 Derby Hall. He is our featured Edward (Ned) J. Taaffe speaker of 2019-2020.

Dr. Gidwani also wrote a blog post to accompany his talk.
Darla Munroe
Professor and Chair