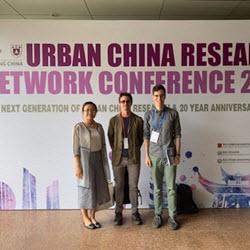 OSU Geographers attend the Urban China Research Network 2019 conference in Nanjing, China. (Lili Wang, Max Woodworth, Sam Kay).
You may notice that my closing title has changed from Interim Chair. Beginning July 1, I assumed the role of Chair until 2023. This past academic year has been a wonderful learning experience, and I am honored by the opportunity to continue working with faculty, staff, students and alumni in leading this great department for the next four years.
Faculty News:
Max Woodworth and two of his students, Lili Wang (PhD, 2016) and Sam Kay (PhD candidate), were in Nanjing, China, June 21-23 for the Urban China Research Network annual conference and this past week they were in Beijing for the International China Urban Development conference.

Vice Provost for Global Strategies and International Affairs and professor of geography Gil Latz was recently featured on the Voices of Excellence podcast, available on Soundcloud and iTunes. He discussed Ohio State's global engagement strategy, international research partnerships, recruitment of international students and study abroad.

Darla Munroe participated in the American Association of Geographers 2019 Department Leadership Workshop in Washington, DC, June 26-29.

The book Climate Leviathan: A Political Theory of Our Planetary Future (London/New York: Verso 2018) by Geoff Mann (Simon Fraser University) and Joel Wainwright was awarded the Sussex International Theory Prize.
Student News:
Blake Acton (MA student, advisor Harvey Miller) was awarded a $2,500 scholarship by the College of Arts and Sciences to attend a four-week session of the 2019 ICPSR Summer Program in Quantitative Methods and Social Research at the University of Michigan. Blake will be attending workshops to sharpen his quantitative research skills for his Master's research.
Staff News:
Last week Jim DeGrand (Senior Research and Lecturer) attended the annual meeting of the Association of American State Climatologists held this year in Santa Rosa, CA. At the meeting he presented a report on the activities of State Climate Office of Ohio.
Darla Munroe
Professor and Chair