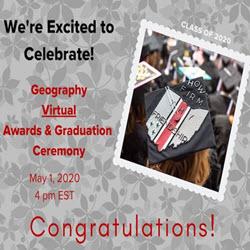 Faculty News:
Yue Qin published a paper in Nature Climate Change that examined how agriculture producers in parts of the western United States relying on snowmelt will be among the hardest hit in the world by climate change.

Max Woodworth organized and participated in a panel in the virtual AAG on April 8 as part of the AAG's "Geographers Respond to COVID-19" theme. The panel was titled "COVID-19 in Virtual and Urban Space."
Student News:
Scarlett Jin successfully defended her PhD thesis. Scarlett's committee was comprised of Max D. Woodworth (advisor), Daniel Sui (University of Arkansas), Oded Shenkar, and Ningchuan Xiao.

Sydney Smith (BA student Geog) presented her research, "Temperature Variation Across Ecological and Altitudinal Gradients in Great Basin National Park," at the Spring Undergraduate Research Festival.
Upcoming Events:
Geography Department Virtual Spring Graduation Reception.
Friday, May 1st. 4 pm.
Geography Blog:
This week we wrapped up our spring semester Earth Day theme, reviewing what we have covered. Thank you to the graduate students, faculty, and visitors who collectively contributed to this feature.

Stay tuned for summer, when we will begin a new series, Research in the Field, with an inaugural entry by faculty member Kendra McSweeney.
Darla Munroe
Professor and Chair