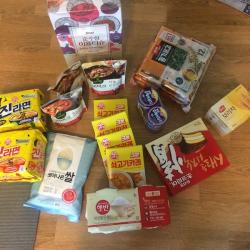 PhD Candidate Sohyun Park is quarantined in Goyang City (outside of Seoul), South Korea for two weeks after arriving for the summer from the U.S. The local government issued her this quarantine care package of rice, ramen, curry, tuna cans, snacks, teas, and tissues.
Faculty News:
Jinhyung Lee (PhD candidate) is lead author on a new paper published in Geographical Analysis: "The Role of Distance‐Dependent Versus Localized Amenities in Polarizing Urban Spatial Structure: A Spatio‐Temporal Analysis of Residential Location Value in Columbus, Ohio, 2000–2015."

Jinhyung Lee also successfully defended his dissertation, "Building ladders of opportunity: Understanding the impacts of new mobility services on space-time accessibility." His dissertation committee consists of Morton O'Kelly, Elisabeth Root, Ningchuan Xiao, Tiffany Wild (Graduate School representative) and Harvey Miller, advisor.

Sohyun Park (PhD candidate) received a graduate student research award from the Mershon Center for International Security Studies for her project, "Effects of Global Seed Regulation on Local Socionature: A Case Study of the Korean Strawberry Industry."
Alumni News:
Kelly (In) Huh, Assistant Professor, (PhD Geog, 2014) was awarded Faculty Advisor of the Year in her College of Letters, Arts and Social Sciences at Cal Poly Pamona.
Upcoming Events:
The Byrd Polar and Climate Research Center is hosting their 4th annual series of 5 in 30 Flashtalks. It will feature current PhD candidate Emilio Mateo and alumni Aaron Wilson (PhD ASP, 2013).
Geography Blog:
This week, we have PhD Candidate Deondre Smiles, writing about Respectful Engagement During Fieldwork for our summer series, Research in the Field
Darla Munroe
Professor and Chair