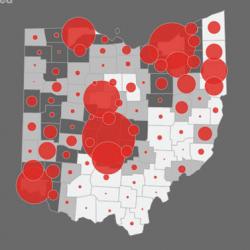 Screenshot from OSU Geography's interactive COVID dashboard (story below).
Faculty News:
Kendra McSweeney published a paper in the International Journal of Drug Policy, Reliable drug war data: The Consolidated Counterdrug Database and cocaine interdiction in the "Transit Zone".

Joel Wainwright was selected to join the inaugural cohort of the Global Arts + Humanities Discovery Theme's (GAHDT) Society of Fellows for his planned contributions to the theme, Human Rights: Pasts and Futures. This fellowship will involve a semimonthly seminar throughout the academic year 2020-2021.
Student News:
PhD candidate Jinhyung Lee's research was featured in an OSU News story, examining the deepening and self-reinforcing polarization of neighborhood housing values in Columbus, Ohio.

PhD students Luyu Liu, Yue Lin, Armita Kar, and Ningchuan Xiao (faculty) developed this COVID-19 visualization dashboard. The dashboard is designed to provide a comprehensive perspective of the pandemic by highlighting the spatial and temporal dimensions of the outbreak in its social and economic contexts.
(Editorial note: in characteristic form, Ningchuan has made his global representation in geographic coordinates, rather than as a flat map projection).

MS student Josh Steiner was awarded a 2020 ENGIE-Axium Curricular Practical Training Scholarship Award from the College of Arts and Sciences. The award recognizes his commitment to working or studying in areas of energy or sustainability.

PhD Candidates Emilio Mateo and Gabriel (Gabo) Zeballos-Castellon both received Alumni Grants for Graduate Research and Scholarship in this spring's competition.
Geography Blog
This week's blog was penned by faculty member Max Woodworth, "Re-visiting the Field Through Old Fieldwork Photos."
Darla Munroe
Professor and Chair