October 30, 2020
News Brief from our Chair Darla Munroe
Image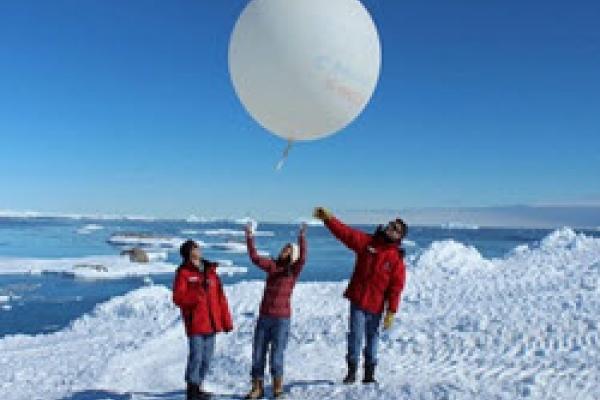 Description
David Bromwich and Jerry Zou's Year of Polar Prediction project produced an important publication this month.
Photo Credit: Météo France
Faculty News: 
This week, in the class Geog 3900, Global Climate Change: Causes and Consequences, Bryan Mark and graduate student Jami Orell hosted Ohio Representatives Allison Russo and Kristin Boggs to discuss and hold Q&A about House Bill 6 and the controversy, corruption, and prospects of repeal surrounding it. Students were encouraged to do supplemental research before class and came prepared with many interesting questions regarding this and Ohio's renewable energy future.
Student News:  
Yuchen Li successfully passed his PhD qualifying exam. His examination committee consisted of Desheng Liu (Geography), Elisabeth Root (Geography/Public Health) and Ayaz Hyder (Public Health), and advisor Harvey Miller. His dissertation project will develop spatial-temporal methods for understanding the dynamics of the opioid overdose epidemic and its community context.
Allumni News:  
Xun (Jerry) Zou (PhD ASP, 2020) postdoctoral scholar, is working with David Bromwich, who is leading the World Meteorological Organization (WMO)-sponsored project: Year of Polar Prediction in the Southern Hemisphere (YOPP-SH). They are investigating the forecasting of major storms affecting coastal Antarctica. A milestone on forecasting weather events in the antarctic summer has been reached with this publication in the Bulletin of the American Meteorological Society (BAMS), that had 38 international authors. Seventeen nations collaborated to launch 2200 additional radiosondes to enhance weather and climate prediction for Antarctica. The next phase of the project is to study the southern winter.
Upcoming Events: 
Sara Smith, UNC Chapel Hill, is our colloquium speaker today at 3:30 pm., presenting, The Cene Scene: Centering Indigenous and Black Environmental Visions. Register for this webinar here.

Registration is now open for the Big Ten Academic Alliance (BTAA) GIS Conference on Friday, November 13th! This one-day conference will bring together geographic information users across disciplines from different Big Ten institutions. Registration for the entirely-online conference is free and open to all. More information is available on the conference website.

Geoweek 2020 is happening with a series of virtual events November 16-20th. More information here.

GIS Day is November 18th of Geoweek. We invite any students, faculty, and staff affiliated with The Ohio State University, Case Western Reserve University, or the University of Cincinnati to submit a story map to showcase their work and highlight the variety of mapping and GIS projects happening across our institutions. More information here.

Your story map can be based on a research project, class assignment, or original concept. The last day to submit an entry is Friday, November 13, 2020.
Geography Blog:  
This week's blog was written by our alumnus, Kevin Hawley (Geog MA, 2005): Map Production to Support 2020 Census Programs and Operations.
Darla Munroe
Professor and Chair
---